Image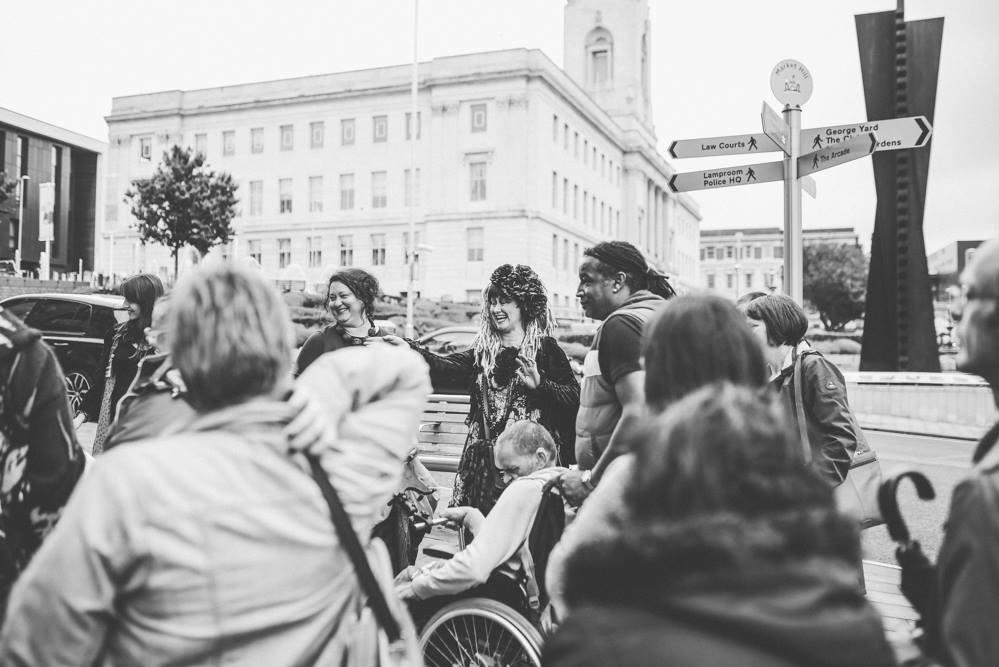 Spaces Between Walk (Creative Recovery); photo by Charlotte Armitage
A few things you need to know about Barnsley…
We are a town born of industrious makers, grafters, rebels, campaigners and creatives. 
From the ornate, decorative tins of the Barnsley Canister Tin Company to the talents of our internationally renowned brass bands and choirs, we have and continue to export our creativity and invention all over the world. We are rich in cultural sites too, sandwiched between Yorkshire Sculpture Park and the Newcomen Beam Engine at the Elsecar Heritage Centre. We continue to protect the treasures of our industrial past, whilst presenting visions of contemporary pioneers. Underneath all of this, lies a heart that beats and fights for community, solidarity and social justice. Barnsley has produced some of the most galvanising and inspirational social movements in response to divisive and troubling times, such as the Women Against Pit Closures. We are tenacious in the pride we have for our town, our heritage and our people.
We are also a community that has been devastated by the loss of industry, political disempowerment and crippled by decades of low social mobility, austerity and health inequalities. In my other work with Creative Recovery, people began to tell us how they disengaged from community and civic life, many believing that they weren't worthy or good enough to access cultural activity. Today, Barnsley is the 37th most deprived borough in the UK. Rates of depression, self harm and cardiovascular disease are still higher than national averages and our life expectancy still remains lower than the national level. Steady progress has been made over the last decade, yet many families and communities still feel stuck and debilitated by financial and aspirational poverty.
In many ways, it is no surprise that Barnsley has become a hotbed for culture, health and wellbeing, a community drawing on its heritage of resourceful creativity, resilience and community spirit to face its social, economic and emotional challenges.
As the Culture, Health & Wellbeing Alliance is becoming more concerned with the role of culture and creativity in addressing inequalities and its potential to engender hope and collaboration to drive social change in unsettled times, the move to Barnsley feels even more appropriate. 
Here is some of the great culture, health and wellbeing work happening in Barnsley, led by cultural organisations and grassroots/artist-led initiatives:
Creative Recovery is a people-led charity that uses creativity to boost wellbeing, support recovery and bring about social change. After a series of successful arts for health pilots funded by the local primary care trust, public health and drug and alcohol team, the charity emerged from the grassroots back in 2012. The organisation is led by a community of people with lived experience of mental health and/or drug and alcohol issues who have used creativity and culture to feel better, reconnect with others and the world. Creative Recovery runs a weekly programme of creative/therapeutic activity, including Recovery Through Art, The Live Arts Cafe and several choirs, including the We Can Survive Singers, a group co-created with people living with  cancer. They also embark on ambitious, street based work and projects with the aims of challenging stigma, promoting wellbeing and raising aspirations for all. Last year Recovery Through Art, led by artists Helen Boutle and Phil Hunter, were commissioned by Barnsley Council to create an urban land art for the Tour De Yorkshire.
Barnsley Museums, with their new NPO status, have a key focus on health and wellbeing. Collaborating with local partners, they are developing projects for communities that maximise the five museum sites across the borough as 'wellbeing destinations'. Recent projects include collaborations with Qdos Creates, a local arts organisation, to develop dance and reminiscence work within care homes as part of the flagship Barnsley Cares projects. In June, Barnsley Hospice launched the Dying Matters Poetry Anthology, a collection of poems created by patients working with resident poet, Diane Hinchcliffe, as part of the Museums' Hear My Voice project (funded by TUC, Creative Minds and The Shawlands Trust). A pilot wellbeing project with the NHS Veterans Mental Health Complex Treatment Service, for ex-service personnel with Post Traumatic Stress ran for 8 weeks at Cannon Hall and artist Rachel Howfield Massey has recently created a wellbeing chatterbox to stimulate a fresh navigation of the park and gardens.
I am inspired every day by the local groups and people in Barnsley who really care about local people and our environment. Butterflies Dementia Support offer people friendship and tackle loneliness we work with them doing reminiscing heritage sessions. I know some of their clients, don't have families and this is their only social outlet. Barnsley Main Heritage Group are wonderful too - working on a post-industrial site to bring Barnsley's rich heritage back to life whilst encouraging friendship, health and wellbeing - oh and looking after all the cool wildlife like hedgehogs. These people are the glue that holds the tarn together. (from Day in the Life- Steven Skelley, Sector Specialist Officer - Community Heritage, Barnsley Museums)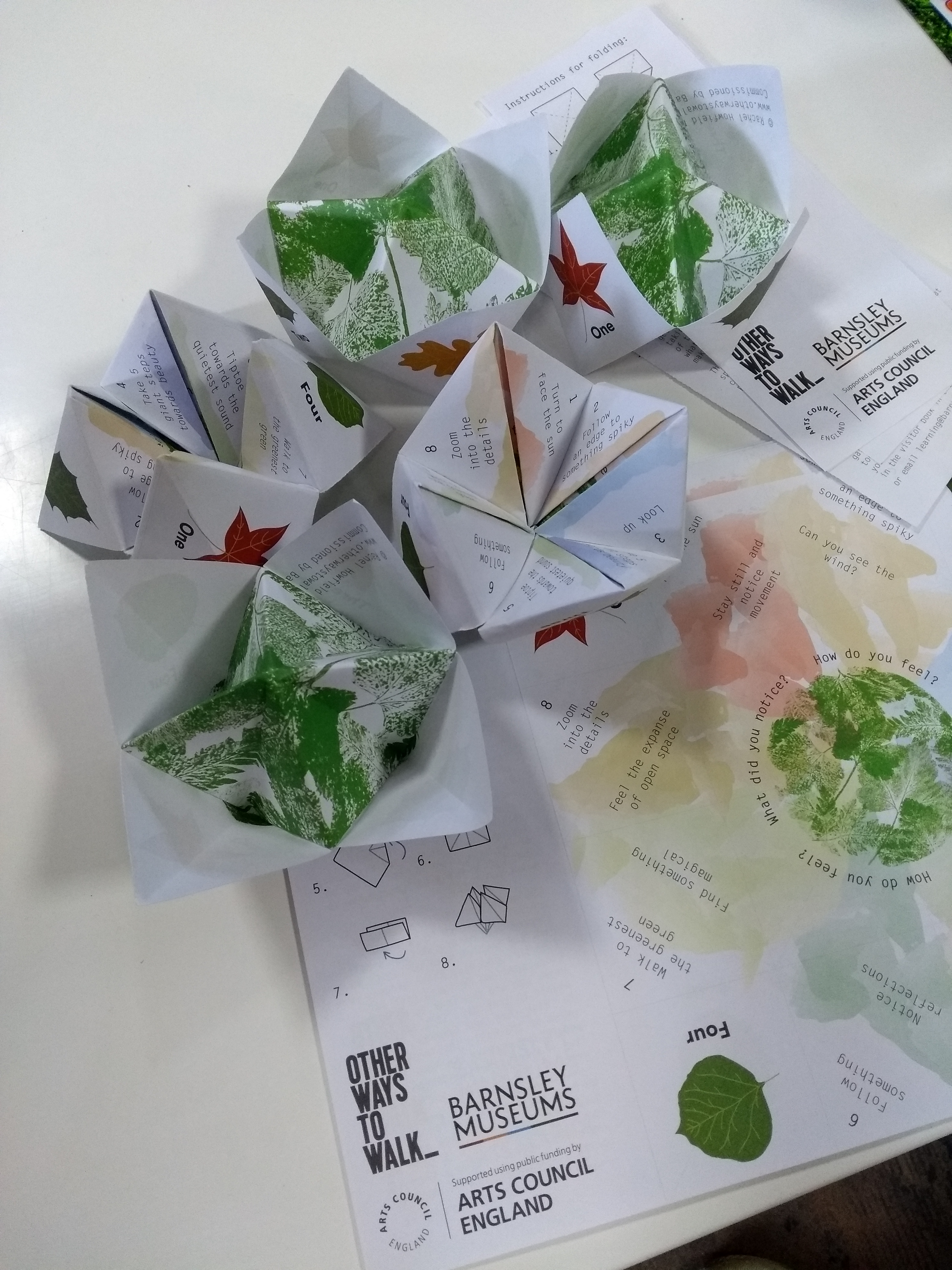 With the appointment of a new role fully focussed on engagement and a strategic push to programme and take theatre and art out into the community, The Civic is working to break down the barriers that impact people from accessing their vibrant cultural offer. Jason White, speaks in this article about their new Moved by Art Programme and why he feels it is so important for the town. The Civic is now also home to Cross the Sky, the renowned theatre company of adults with learning disabilities led by artists Simon Grainger, Becky Newbould and Cath Smart, who create new and innovative theatre to celebrate and raise awareness of the creative talents of people with learning disabilities.
Barnsley Libraries, too, are pushing forward with the health and wellbeing agenda, in line with the Libraries Connected Universal Offers. The new flagship central library, The Lightbox, is quickly becoming a meeting place for culture and health, with the delivery of health services taking place within spaces specifically designed to accommodate health visiting clinics, alongside creative activities designed for customers with a wellbeing focus (read more about the library's vision here). Key projects include the Music in Library Project and Music for Memories Group, link to all regular activities here.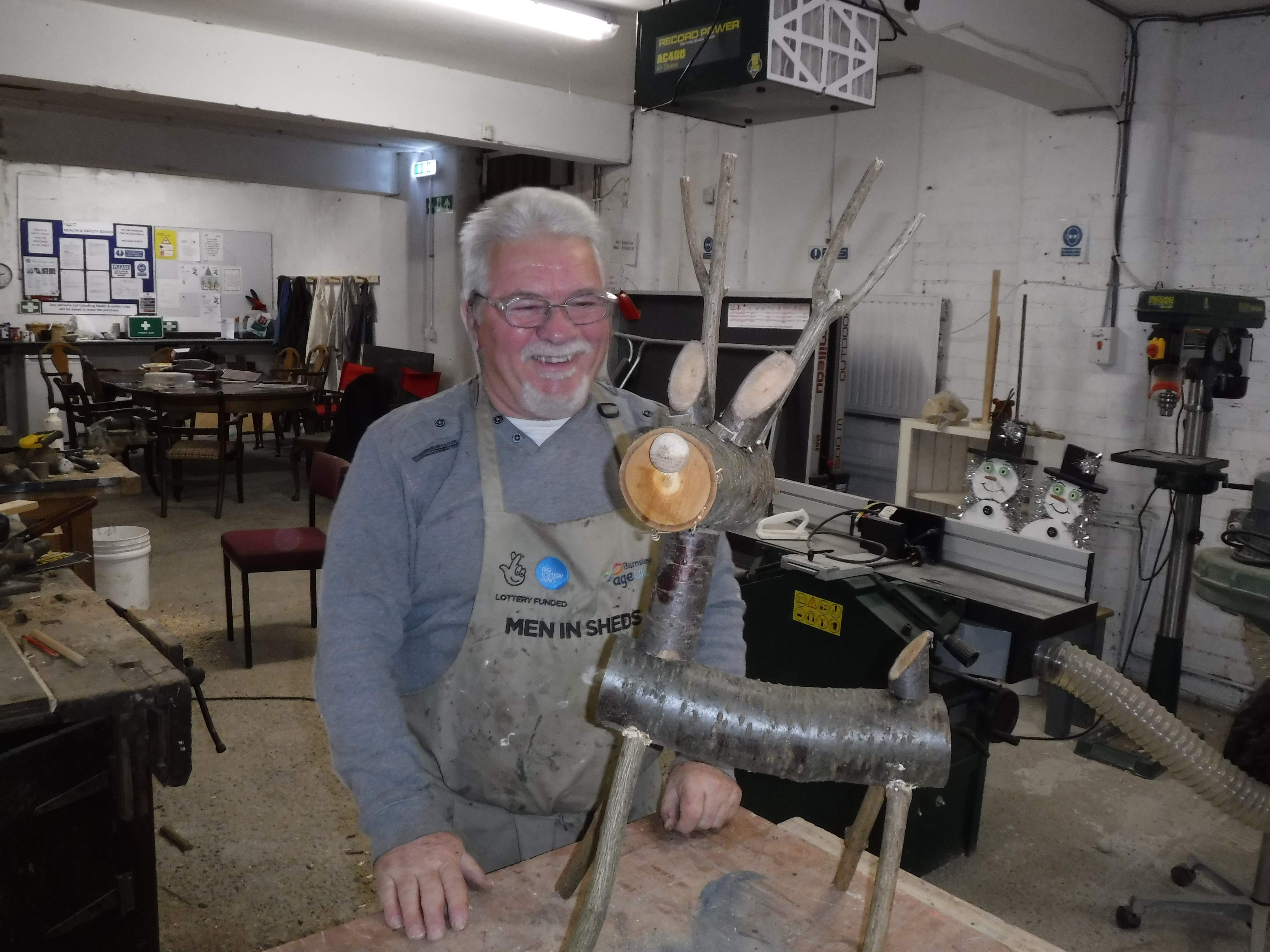 Age UK Barnsley Men in Sheds project is characterised by it's warmth, bountiful banter and nurturing atmosphere. Over woodcrafts, making or a competition of ping-pong and a brew, men share openly and informally how the project has saved them, giving them a sense of purpose and belonging after the loss of loved ones, employment or health issues. The project has also collaborated on commissions with Barnsley Libraries, Creative Recovery and Barnsley Museums, giving the group opportunities to connect with something bigger, celebrate their skills and contribution. Malcom Poskitt, the project leader, spoke of "health by stealth". Through meaningful activity, the osmosis of being together and with the gentle presence of health professionals and services, the "shedders" gain access to the help they need to live well on their own terms.
This ethos and people-led approach is reflected in many of the projects across the patch. Jeff Platts, a key instigator and facilitator of the Barnsley Spoken Voices group shares in his own words below the nature of this project that brings people together through poetry and spoken word. "Barnsley's Spoken Voices exists to give Barnsley writers a platform to record and perform their work. It's a support network, it's a loose, organic community, it's a launch pad, it's a hub, it's a safe place to share ideas, explore, learn, educate, and heal."  Read more here.
Barnsley Spoken Voices is part of a re-emergence of spoken word and poetry scene in the town. People are finding their voices and breaking through the barriers that once kept them silenced. The Hear My Voice announced a new young poet laureate to take over from Barnsley baird Ian McMillan, Eloise Unnerman, who is becoming an inspiration for the next generation. Writer Vicky Morris from Hive South Yorkshire has been working on the ' When Life Gives You Lemons Project' with young people from Barnsley Chilypep and CAMHS service. The project uses creative writing and talking exercises & techniques for wellbeing and resilience building.
There are also many local individual artists who are busy instigating an upswell of work in this area, responding to the needs of their communities they serve and from their own personal experiences. Here are a few:
Michelle Clarke Stables, a local artist and sculptor, who works part time at BIADS ( Barnsley Independent Alzhemiers and Dementia Support) set up the Snap and Chat Project as a way to connect with people living with dementia, who were socially isolated at home.  She plans visits, armed with creative stimulus and homemade food on the search to uncover people's hidden talents and ambitions. She then works with other creatives to make people's visions become realities.
Adrian Ashworth, a professional photographer also worked with BIADS to develop the auto-biographical Somewhere in Time, sharing the stories of people with lived experience of dementia and their carers. He was also inspired by his Siberian Husky, Thunder who started to behave differently around his father soon before his dementia diagnosis. This instigated The Therapy Huskies project. Working with his pack of four huskies, Adrian now visits healthcare settings, hospices and family homes, reviving and soothing people. Thunder is now a formal part of several individual care plans. Read more about the project here.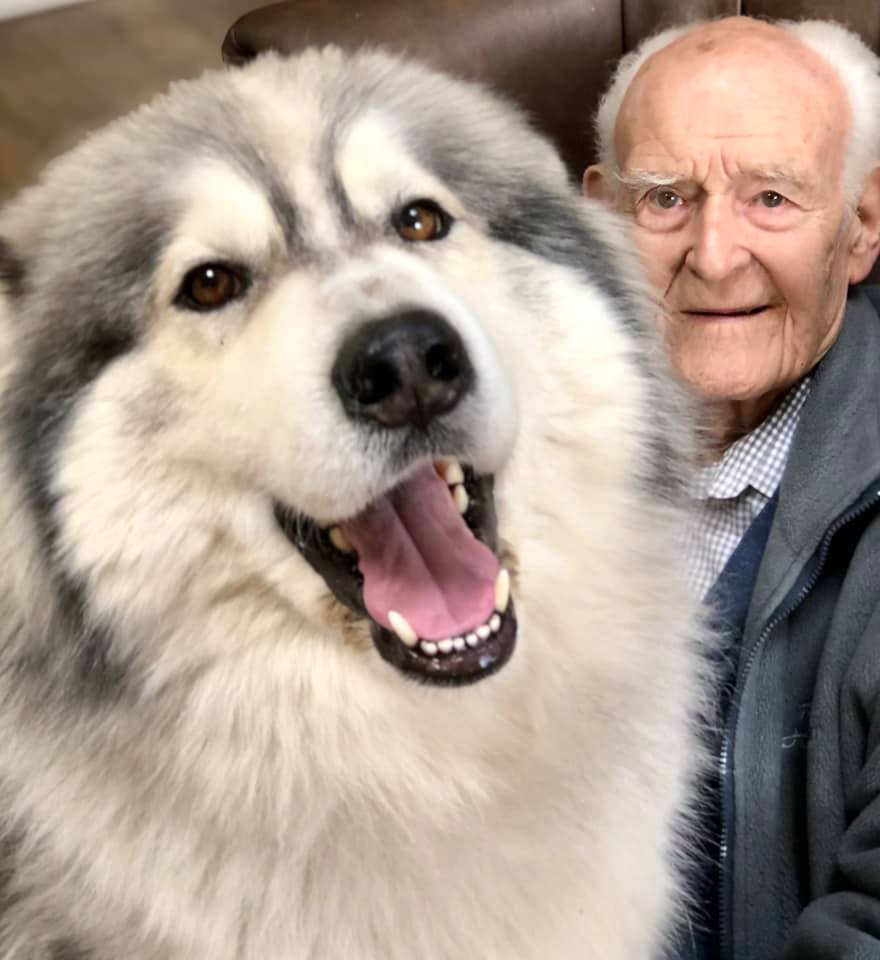 Artist Gemma Nemer aka The Button Tin has been in residence at the Elsecar Heritage Centre, supported by the Great Place Wentworth and Elsecar programme. She has created an immersive studio experience in the Earl Of Fitzwilliam's Private Train Station, where she runs a programme of applied arts and heritage workshops, co-creating textile art pieces with local communities and regional visitors. Creating space for people to share stories, escape the everyday and express themselves is central to Gemma's work. Her most recent project, Common Threads – The Fabric of Society: Visible Her-stories of Wentworth & Elsecar, evolved from conversations and research shared with members of the local community and a drive to share stories previously untold. Read an article about Gemma's practice here.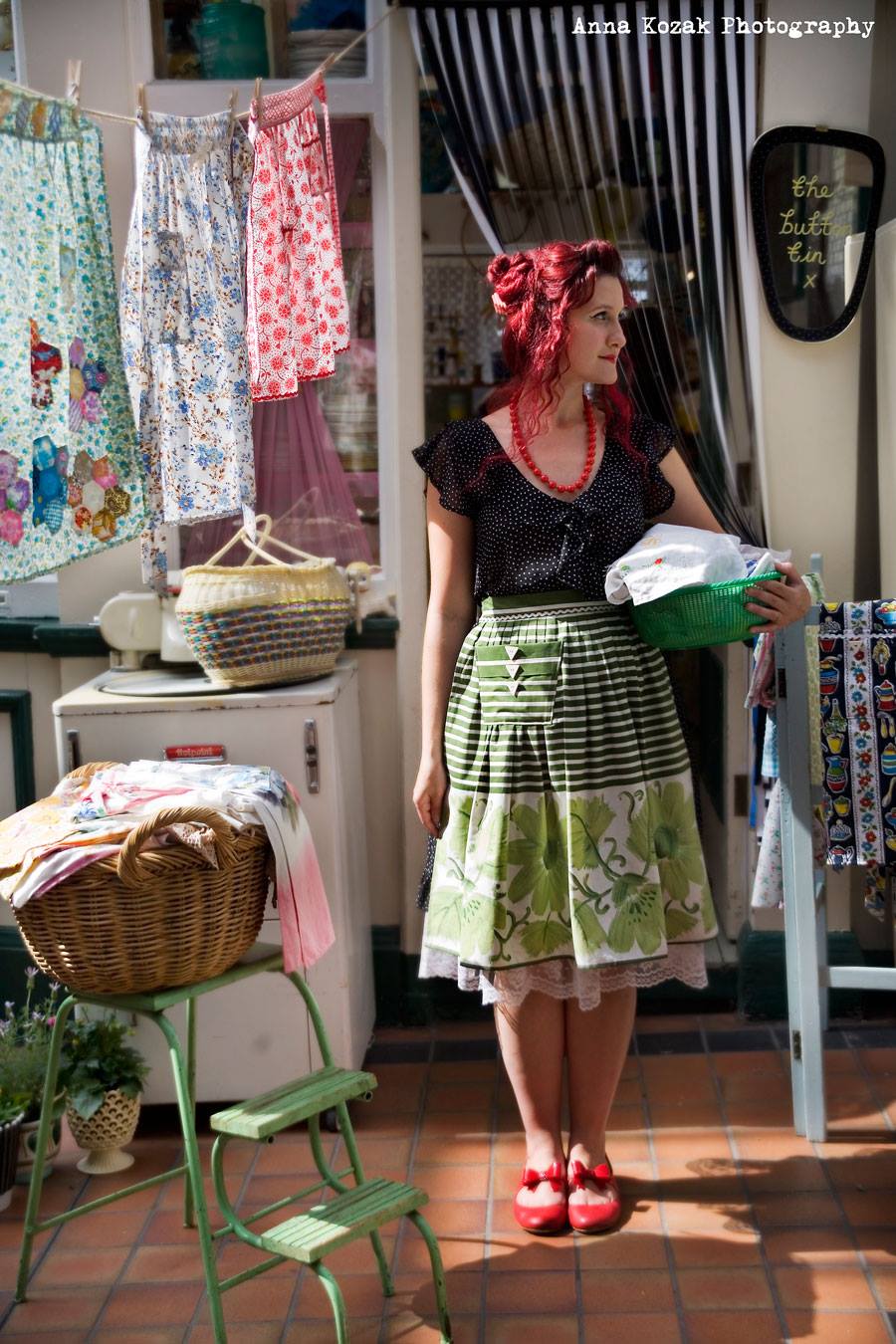 Hayley is the Coordinator of the Culture, Health & Wellbeing Alliance and continues to work with Creative Recovery in Barnsley.