Image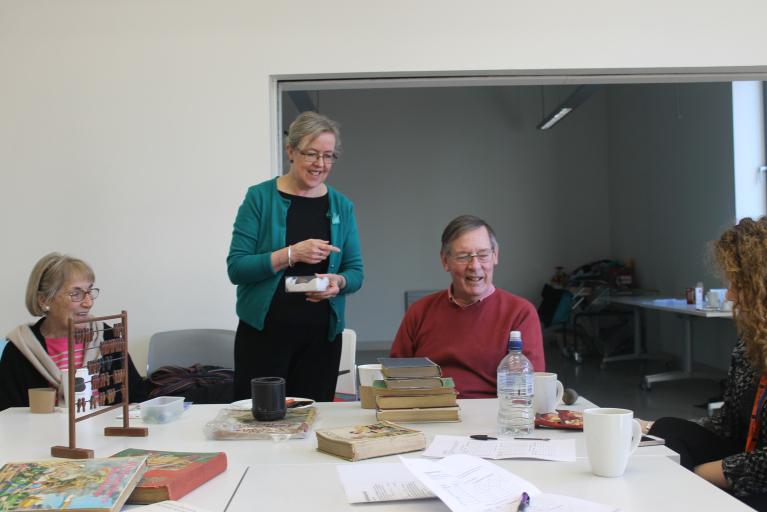 The Beaney's Power of the Object programme – a dementia & social isolation story
It's been important to both me and my mum because it's given Mum the opportunity to come out and do something constructive and it seems to me that she gets some kind of stimulation that lasts for 2 or 3 days afterwards. 

Paul Langley,  Carer
The Beaney's Power of the Object programme works with people affected by issues dementia and social isolation. The long-term aim is to engage people from all walks of life, ensuring they feel welcomed at the Beaney and are keen to return.
People affected by dementia or social isolation (and their companions) are welcome to join the Beaney Power Of The Object Group for themed sessions with object handling, gallery visits and cups of tea which are free and take place in the Learning Lab on a monthly basis. Participants find it a great chance to get close to the museum collections and to socialise. 
The Beaney has been working in this area for 5 years and many of the dementia and social isolation programmes delivered have been part of valued partnerships with institutions working in the area of Museums and Arts on Prescription (including Canterbury Christ Church University, the University of Kent, University College London, Age UK and the NHS).
To find out more about the group and hear participants and their companions speak visit  the Beaney Health & Wellbeing webpage
70 Stories for 70 Years
These stories represent personal experiences of the impact of creativity, culture and the arts on health and wellbeing. They have been collected by the Culture, Health & Wellbeing Alliance (CHWA) to celebrate the 70thAnniversary of the NHS in 2018.
If you have a story you would like to share, please do get in contact at info@culturehealthandwellbeing.org.uk.
We are publishing these stories as a collection on the new CHWA website, and will be promoting them using social media from the end of 2018 leading up to the first CHWA Annual Conference in March 2019.