Image

Rosie Dow, Board Director of the Culture Health and Wellbeing Alliance and Programme Manager for 'HARP' at Nesta, explains what this arts and health innovation programme has been about, and what they've learned
How can artists and health organisations can use people-powered innovation to create meaningful change in health and care systems?
How can funders and practitioners can work together to ensure arts and health innovations thrive?
Since 2019, we in HARP (Health, Arts, Research, People) have been exploring these questions. HARP is an innovation and research partnership between Arts Council of Wales, Nesta and Cardiff University's 'Y Lab', where we've sought to generate, grow and learn about impactful, creative innovations that support people's health and wellbeing. 
HARP came into being because we and our partners know that the arts can have a hugely positive impact on our health and wellbeing. We also believe that innovation in this space between health and arts could hold the key to addressing some of the NHS and social care's biggest challenges.
Many people think that innovation is just about 'the new idea'. I disagree - that's what I call invention.  Indeed, anyone can have a good idea: innovation is about how good ideas actually come to life, how they have a positive impact, evidence success, learn from failures and grow to reach more people.
In arts and health this journey can take a long time, often years for an idea to get into the mainstream.  We also know that too many ideas never get there due to inadequate support, resourcing, or evidence.  We think this has a lot to do with these projects depending on the fact that they span boundaries between the health and arts worlds, with their different (sometimes even opposing) ways of working, languages and systems. 
So, in HARP we have sought to learn more about how we can meet these opportunities and challenges, combining grant funding with network building, coaching and research for 17 partnership teams of arts and health innovators. Our HARP projects ranged from singing for dementia to creative writing to support addiction recovery; arts sessions for mental health inpatients to storytelling by Black NHS workers.  Sure, we did generate some new ideas, because we wanted to bring new health partners into this space and help some underserved groups. But we also supported 10 arts and health partnership projects that were already in existence, looking to scale or sustain. It's been an immense privilege to work so closely with them all, and we know they have all had a positive impact on people at a really difficult time.
Crucially, working with projects at different stages, across different artforms and settings, allowed us to observe common challenges and successes in arts and health. It also meant we could try out some new ways of working, aimed at ensuring projects had equal partnerships between health partners and artists, and could last longer term.
One of the key things we've learned in HARP is that arts and health innovation projects tend to go through four key stages: groundwork, test, invest and scale.  
The groundwork phase sees health challenges identified and partnerships formed to tackle them. Then, ideas are tested. Next, comes investment in evidence and resource building, as well as storytelling.  Finally, new partnerships help expand the innovation's reach to scale. Projects can move back and forth between stages, this isn't always linear, and not all stages will apply to all projects.
So, we've illustrated and explored this process further in what we're calling 'the HARP Approach'. This is a new framework, illustrating what a collaborative innovation process can look like in arts and health.  Crucially, it details clear actions that innovation teams can take at each stage in order to set their projects up for success in these key areas:
resources and investment

delivery and pathways

relationships and storytelling

evidence and evaluation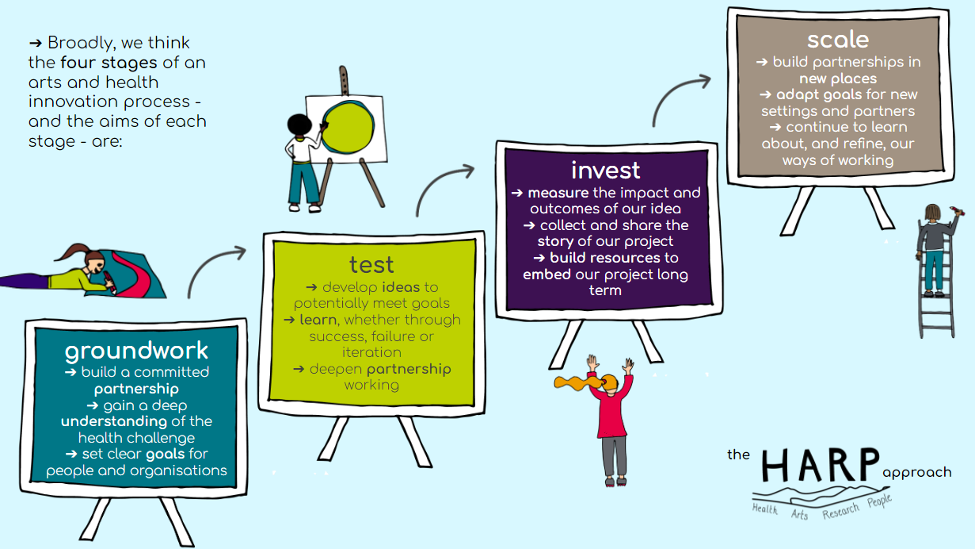 We have also produced a set of accompanying recommendations for funders, health and care leaders, academic researchers, arts and health network facilitators and policy makers.  Our recommendations centre on how these groups of stakeholders can support innovation teams at each stage, as well as calling for more strategic, balanced and proportionate investment across the different phases.  This structure matches CHWA's Thriving Practice model and intentionally echoes many of their recommendations for a more cohesive, collaborative and collective approach to ensuring arts and health projects survive and thrive.
As well as sharing all this in a new online resource (launched 16th May), we're delighted to be holding four short, free online events from 17-20 May 2022, in order to:
 - Engage key audiences with the 'HARP Approach' and our recommendations
 - Highlight the stories of the 13 innovation projects we've worked with in HARP
Register here:
English: https://www.eventsforce.net/nesta/111/home
Cymraeg: https://www.eventsforce.net/nesta/111/home?language=20 

HARP website (content live from 16th May) - www.healthartsresearch.wales