Image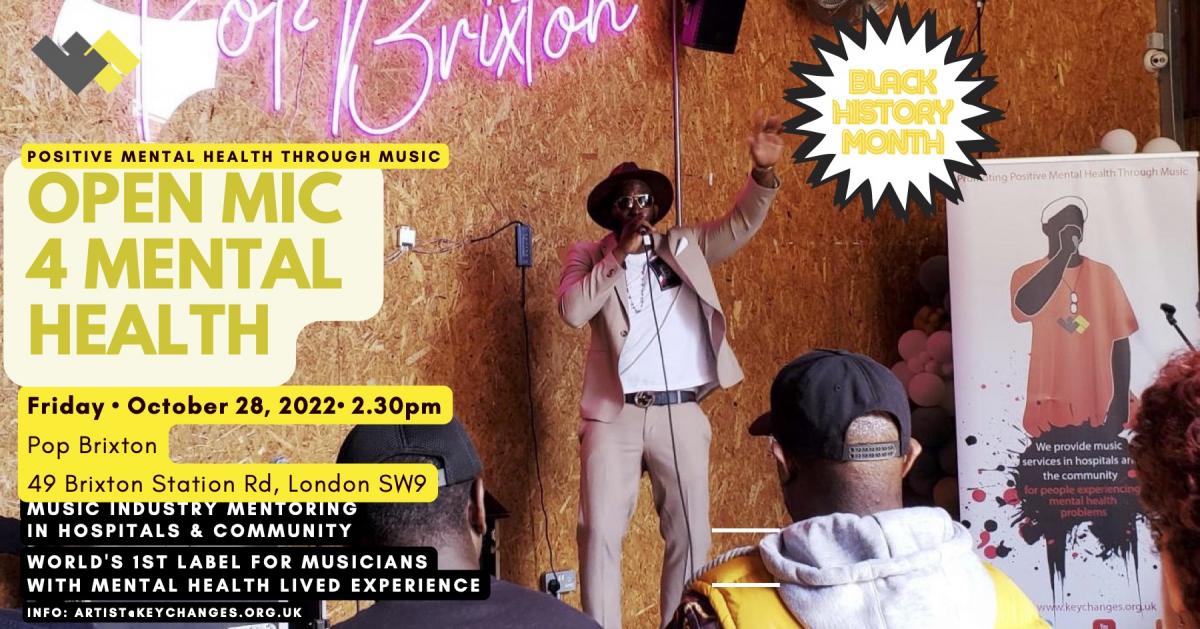 This October, we're highlighting a few activities led by our members and regional champions for Black History Month. You can also watch our conversation with Dr Errol Francis about his work across mental health, culture and research at the bottom of this page.
Key Changes – the world's first music label for musicians with mental health lived experience – marks Black History Month every year with parties or concerts in most of the hospitals they work in. This year Key Changes is also holding a Community Open Mic event at Pop Brixton on 28 October. Everyone is welcome from 2.30pm onwards, and can sign up to perform an acapella/acoustic song, readings, spoken word poetry etc. "People wanting to perform might like to drop us a line at artist@keychanges.org.uk a few days before so that we can meet any audio tech needs." 
London Arts and Health (LAH) is running a Black History Month commission for a greater London-based Black, Asian or ethnically diverse artist, practitioner, clinical member of staff across any health practice, or organisation to take over its social media channels and website for October. LAH also still has places open on its Artists Represent Recovery Network – which offers paid training for ethnically diverse artists in London (apply by 20 October!).
Oxford Brookes University is hostng a programme of events on 'Wellness and Mental Health'. The programme includes 'Belonging - In Emergency: Break Glass' on 17 October, led by Euton Daley MBE and Amantha Edmead. Euton is founder of Unlock the Chains Collective and an artist, director, mentor and producer based in Oxford with over 40 years' experience. Amantha founded Kuumbia Nia Arts, a Black led and Oxford based touring theatre company. On 19 October Professor Jason Arday (University of Glasgow) will give a lecture on Mental Health, Race and Racism, and a 26 October lunchtime workshop on Intersectional Mental Health led by Intersectional Therapist & Consultant, Zayna Ratty, specialist in LGBTQIA, race and ethnicity, and intersecting identities. Read more about all these events and more here.
This year's celebrations at National Museums Liverpool (our North West museums champions) include an after-hours event at the Walker Art Gallery on 14 October, developed in partnership with The Goddess Projects.
Using the 18th Century room as inspiration, participants in the event will take part in life drawing sessions with models who are more representative of contemporary bodies and society – aimed at reflecting the power and strength of Black women. The event will challenge outdated views of what it means to be Black, working class, or a woman.
Other events include family crafting across Museum of Liverpool and Maritime Museum, an inspirational new exhibition of artwork by Merseyside schoolchildren celebrating great Black Britons at International Slavery Museum, and explorations into medical racism at Museum of Liverpool. Discover National Museums Liverpool's full programme for Black History Month here.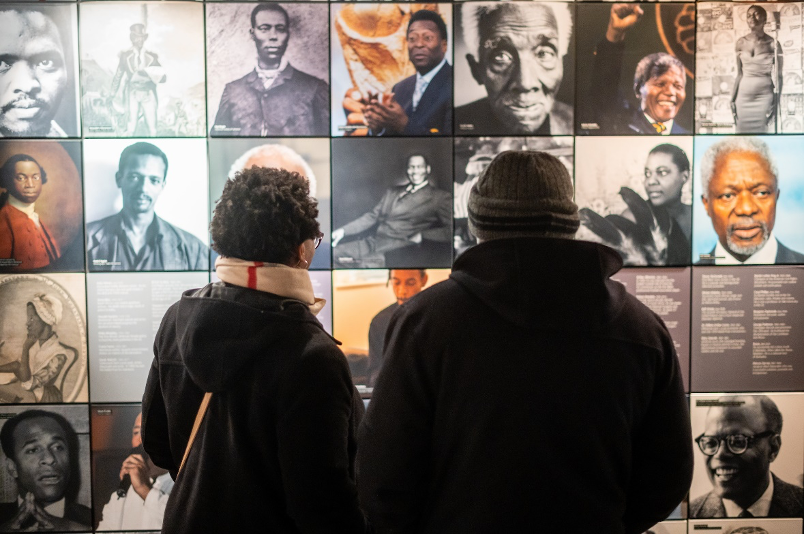 We've also been watching Red Earth Collective's powerful Menologues from last year - a series of short films sharing reflections on lockdown, the death of George Floyd and the Black Lives Matter movement, "providing a creative insight into the impact of these events on the mental health of Black men and their communities".
See below for our conversation with Dr Errol Francis about his work across mental health, culture and research - and about Black History Month itself:
...it's good to have Black History Month. But I just hope that it's a reminder to people that it can't be just one month in the year, it needs to be a permanent consciousness about inclusion in whatever discipline we happen to be working...
TRIGGER WARNING: This contains discussion of systemic racism in mental health services and loss of life. Please find linked here some support services which might be useful for anyone affected by these issues, courtesy of Mind.