Image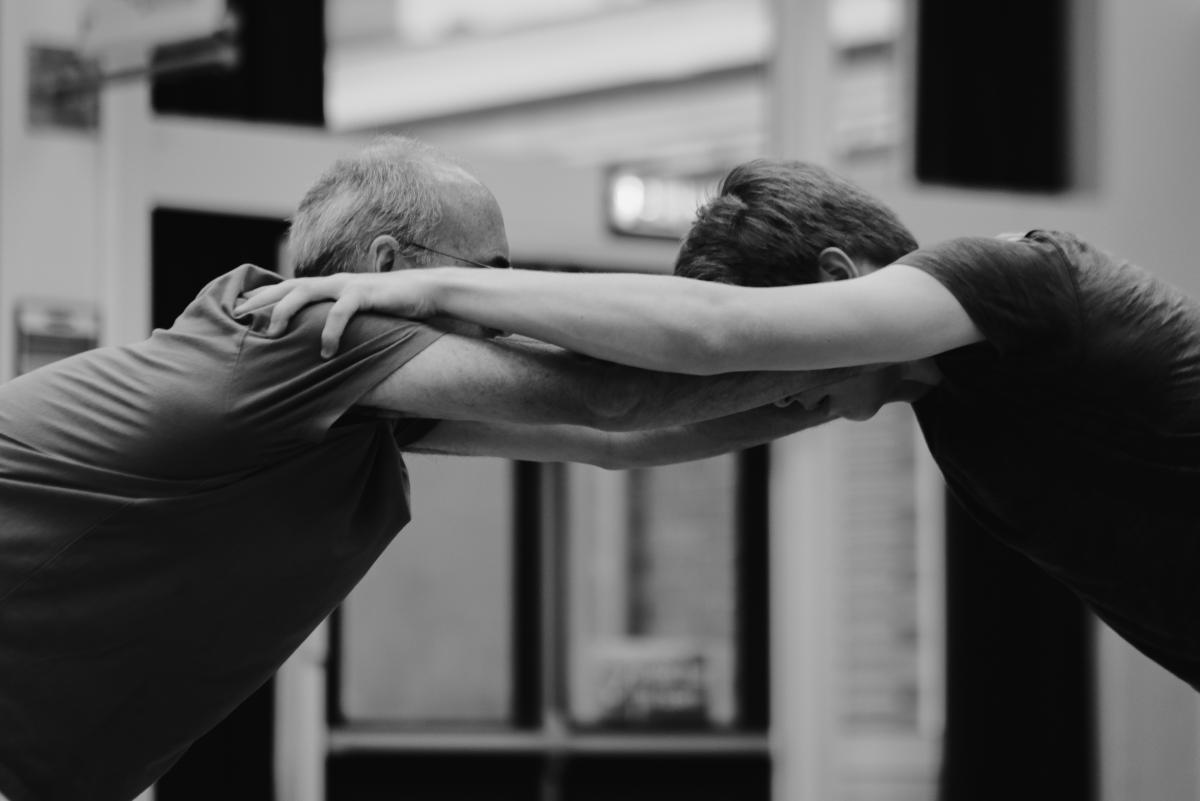 'Dads and Sons' performing at ZoieLogic Dance Theatre's Headfunk 2019 Photo credit: Matt Pear
A conversation between Victoria Hume (Director, CHWA) and Liz Ellis (Policy Project Manager, National Lottery Heritage Fund)
Victoria: This year in a beautiful piece of synergy, Creativity and Wellbeing Week, theme Positive Futures, runs alongside Mental Health Awareness Week, theme Kindness. The National Lottery Heritage Fund is one of CHWA's Strategic Partners and you lead on inclusion and wellbeing policies. What synergies do you see in this week during this extraordinary year of challenges so far?  
Liz: I've been a fan of and happy contributor to Creativity and Wellbeing Week for the past 10 years so I know it is always a week of shared, brilliant energy. I know the characteristic generosity of so many culture and health practitioners alongside the involvement of so many networks and alliances, will make 18-24 May 2020 an amazing week.
The Heritage Fund recognises the significant role of wellbeing in our outcomes and inclusion priorities. This week has a strategic focus for us all this year and ahead. As a funder, we recognise that not everyone is equally impacted by the pandemic, with existing, structural inequalities disproportionately affecting the experiences of individuals and communities.
When the Heritage Fund approached Burgh Castle Almanac participants to share their knowledge and experiences as part of Mental Health Awareness Week, it was the very intentional, central role of kindness as a core value which was shared by everyone involved, that sang out for me. It was also the way that all the structures surrounding this brilliant two-and-a-half year project demonstrated for me what is increasingly recognised as an ethics of care. This is a situated, relational model of understanding how we connect - or fail to connect - with each other, which recognises that care takes place in a mesh of social and structural networks. Using the ethics of care means we pay attention to the changing care needs we all have throughout our lives, whilst recognising the often extreme differences in how we all experience power relations and structural inequalities. As a very concrete example of the ethics of care in action (although not a term I think the Burgh Castle Almanac participants currently use, perhaps a creative opportunity together ahead!) I'll give a brief snapshot based on this recent experience. 
I've been lucky enough to join one of the Almanac walks at Burgh Castle. Arriving in Great Yarmouth one late autumn day I was immediately made welcome by all involved in this exploration of historic landscape and mental wellbeing at Burgh Castle Roman Fort. I was included warmly in the conversations over past events, then guided along in the darkening day by others, the kindness consistently demonstrated by all meaning that I didn't fall into the surrounding muddy ditches and peaceful, but freezing water. While we were walking, many of the 20 or so participants shared with me their experiences of the beauty and comfort they gained in this extraordinary ancient landscape, associated now with new friends, people who could be trusted and who evidently helped each other, often during difficult, perhaps lonely days. When we eventually left the moonlit landscape for a much-needed tea brew back in the warm Village Hall, I felt relaxed, safe and completely included in this environment that had been previously unknown to me.
The context I had been invited into, to explore with other people, to contribute ideas and share these more widely through the Burgh Castle Almanac enabled us all to feel more positive about what was next for each of us, in our days and weeks ahead. These intentional values of kindness and supported creativity of course didn't happen randomly. Addressing the inequalities of health, income, housing and much more, which prevent so many people in the UK experiencing historic landscapes or any other aspects of our shared heritage, takes an understanding of the 'ethics of care'. This is an understanding that we all need care at differing points in our lives and access to resources and equitable structures to look after each other and which really values how we care about each other. This knowledge means placing people at the centre and from the outset, through thinking, planning and resourcing, often for months ahead.
In the Burgh Castle Almanac example, creative and flexible relationships between mental health and heritage organisations include the Broads National Park Authority and the Restoration Trust. Finding the right person to regularly drive the minibus so people can get to the site and contribute to the Almanac, or who to give an enjoyable talk about the stars over the ancient Burgh Castle site and the archaeology within it, or to remember to bring the milk - are all crucial relational and interlocking components.
All these skills and resources require kindness as core to 'working with', not 'doing to' people who may have experienced intense vulnerability and reduced life opportunities over many long, hard years. Together as participants, heritage organisations, artists, funders and many more we can contribute to building an ethics of care now and ahead, which really demonstrates meaningful social and creative change in tackling these inequalities. That looks like a Positive Future for me and so many of us involved in CHWA and other alliances I know too.
You'll find Laura Drysdale's and John Durrant's experience of Burgh Castle Almanac here:
Laura Drysdale: https://www.heritagefund.org.uk/stories/feeling-belonging-heritage-and-mental-health
John Durrant: https://www.heritagefund.org.uk/stories/how-heritage-helped-john-reconnect-world
Liz: Victoria, during the pandemic you're currently running CHWA from South Africa. As a musician and CHWA Director, do you experience the sketch I've given of an ethics of care and how do the ensuing practices of kindness resonate for you?
Victoria: Well, I'm experiencing a sort of double-consciousness at the moment, since I'm completely immersed in what's happening in the UK via the news, social media, and the work with the Alliance of course. I am living in the UK on one level, and on another I am in a South African winter, with all the beautiful cold sunsets hitting Joburg's orange rocks while the UK's summer evenings drift on.
Your recollections of Burgh Castle make me think of some work I was involved in as a musician, here in South Africa, with an organisation called Sustainable Livelihoods Foundation (SLF), specialists in public engagement in health research. The project was about water – during the Western Cape's severe drought in 2017, SLF wanted to extend the conversation to areas that have less of a voice in the media – to learn what water, and the loss of water, meant in communities where stormwater can dislodge homes in a single night, break down roofs, flood makeshift sanitation systems; and where, too, a lack of water means no way to extinguish house fires, no means of burying a loved one's body correctly, no means to run an annual flower competition in the impossibly sandy soil, until then a defiant symbol of community and possibility. With their partners in Delft and Enkanini, SLF were guided by exactly the ethics of care you describe. In Delft, long relationships had been built up over years of sporadic funding and a belief in slow, unshowy work full of integrity. Many aspects of this project are branded into my memory but towards the end of an intensive week of making music, body-maps, and drama together, a local lay preacher who had been part of the project brought us together – a collection of atheists, Muslims, Christians – in tight concentric circles with our eyes closed – to receive a blessing. I've rarely experienced something so intense with other people. "Care" is such a degraded word in the UK, the "care system" such a cold concept, however warm the people within it. Somehow this circle of people in a rickety church hut surrounded by body-maps was a rebuttal of that cool idea. Care instead became a powerful force, something with great energy, great potential to unify, and to create change.
The circle had this effect because over the week – just as you describe your experience at Burgh Castle – we had felt sufficiently cared for to trust each other with our personal histories. Yesterday I attended a Positive Futures discussion about a range of creative programmes designed to support young people's mental health – from fashion design to dance (see ZoieLogic Dance Theatre's image, above) – convened by Southampton Art in Health. One of the overriding themes was the creation of safe spaces that allowed people to express themselves. This connects too with Performing Medicine, who have recently re-published a Circle of Care, written with Guys & St Thomas NHS Foundation Trust and based on 15 years of work in clinical training, which obviously connects very directly with the ethics of care you describe, as "a relational framework for care, showing the ways that good care flows multi-directionally between people".
Another powerful experience care came about for me in Belfast, watching two performances by dancers with Arts Care that upended the idea of who should care for whom. Dancers with disabilities were, through the dance, caring for able-bodied dancers. Dancers with learning difficulties were teaching medical students how to dance. I think about this now in the light of covid, and the words of our LENS champion Gilly Angell come back to me, reminding me of who it is who might lead us out of trauma.
'Care' in the UK has been such a contentious concept in the last few years. Last summer the Institute for Public Policy Research suggested that cuts to public health and social care since 2012 had caused 130,000 preventable deaths – all of this well before covid. It's now clear that the government's action plan on social care has – in the words of the chief executive of the Health Foundation – "come too late to stem the avoidable loss of life for care home residents, and social care staff – mostly women – who are about twice as likely to die from COVID-19 as other adults". Care homes are sites of appalling suffering. People paid some of the lowest wages in the country to do a job already so difficult are now having to deal with death on a massive scale. How will we care now for all these people who have borne the brunt of our lack of preparedness?
The arts and culture are often decried as a 'nice to have', yet the individuals and organisations in the Culture, Health & Wellbeing Alliance are using all their skills and experience to find a way to support this recovery. Ensemble Hesperi (working with Live Music Now) recently reflected on their work at Park Avenue care centre in Bromley:
Fortunately, we had built up a great rapport with the staff and residents …and, as musicians who live together, we were able to continue our weekly sessions on Zoom. Live-streaming participatory music sessions from home has been quite a learning curve, but it has been incredibly rewarding to be able to lift the spirits of the residents and staff during these difficult times. We have had to adapt our approach, planning in more detail, and have had to overcome the fact that we can't gauge the atmosphere of the room as easily. Despite these challenges, we feel that the sessions are really bringing a smile to the residents and staff. Singing together, using well-known songs and activities, has been a brilliant way of bringing together the whole community. We have been so touched by the dedication and enthusiasm of the staff at Park Avenue, who even recorded their own music video of a song we wrote for them! During this period, we are so lucky, as we have each other as musical colleagues, our instruments, and our music, but this project has really given us a wonderful opportunity to share our music beyond our own four walls. This, more than anything, has helped us to keep positive and give us hope for the future.
This seems to me to be relational care encapsulated – with musicians, staff and residents all receiving the benefits. Similarly, in Liverpool, Heart of Glass have developed Home Work commissions – many of which are being created by shielded people or people who are caring for shielded people, and all of which are responding to the theme of care.
In many parts of the country, cultural and creative organisations are connecting with emergency support to reach the most vulnerable. RAMM in Exeter are distributing 1,000 creative packs through Exeter City Council's health and wellbeing hub, alongside food parcels. In Canterbury the Beaney House of Art & Knowledge is sending out health and wellbeing information with food parcels, and working with Parish councillors to distribute books to people unable to access the internet. Greater Manchester Combined Authority is supporting a city-wide collaboration between health, social care and the cultural sector to reach both older people and vulnerable young people with tens of thousands of creative care packs.
What makes it care though, is not just the fact of delivering packs or playing music across zoom, but the kindness, the people, the humanness of it, the humour: the acknowledgement of our own artistic frailties in the face of technology, someone's sensitivity in making sure RAMM's creative packs have pencils and pencil sharpeners in them. Tiny things that makes this all feel as if we might have it within us to make something better out of this awful reality. The WHO guidance about Covid-19 rests on kindness ("Be Ready, Be Smart, Be Kind"), just as Mental Health Awareness Week does. Kindness and care are both invested with a respect for our vulnerabilities. I recently read the actor Rory Kinnear's tribute to his sister, who has died of Covid-19. It's both heartbreaking and hopeful, because of his passionate avowal that our real strength as a society is in our recognition of vulnerability, of the need to care for one another. As Guddi Singh put it in a brilliant blog, "Care is what could turn this tragedy into communal, collective, global metamorphosis".
Liz: Finally, in the spirit of positive futures and the kindness we all need ahead, what is the one top music track you'd share?
Victoria: Well '13th Century Metal' by Brittany Howard is pretty much the best thing I've heard this year. I think what she says sums it up, I won't spoil it for you by writing it out. Here she is live: https://livesessions.npr.org/videos/brittany-howard-13th-century-metal
Victoria: What would be your recommendation, Liz?
Liz: I recommend Maya Youssef, a Syrian musician: https://www.youtube.com/watch?v=xL1QRZ1nfro
I heard her play at St Mary's Music Hall, a brilliant music, faith and community coproduction with St Mary's Church, London, E17. The Heritage Fund are proud to contribute funding in this community success.