Image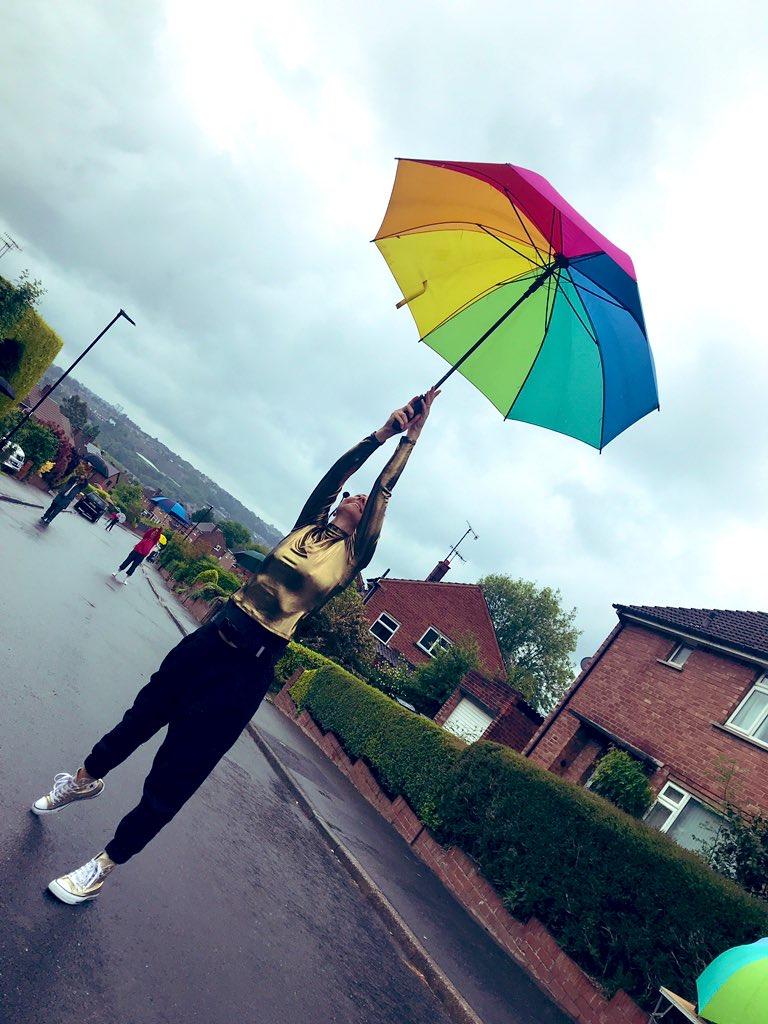 Dancing in Driveways, Charlotte Armitage
Dancing in Driveways started as a response to the Covid -19 lockdown that began at the end of March 2020. Our street in Sheffield created a WhatsApp support group to keep the residents in touch with each other and to provide a central place to share news, ask for potential help and to generally keep the community spirit alive in the "unprecedented times." Charlotte Armitage (the founder and initiator of Dancing in Driveways) is an experienced community dance artist, postural stability instructor and all-round amazing spark of life. As her work in the community is mainly with older or vulnerable adults and children, she found that the lockdown and social distancing had literally stripped her of all her freelance dance work. So she suggested a daily 20 minute, fun, dance session and this was quickly taken up by the majority of the street, all standing in their driveways (well over 2m apart) with Charlie standing in the middle of a T junction intersection of the street  (we are a very quiet neighbourhood with little traffic). From that initial first week to now, 11 weeks on, the sessions have run every week day (55 sessions – more than a years worth of weekly classes) and now encompasses over 50 participants on at least 3 streets, all passing movement on from one to another even if they cannot physically see Charlie, the youngest started at 5 months and the oldest is 93 years (who joins in through the window of her bedroom). All the sessions are very carefully instructed with Charlie ensuring that everyone who participates can do so at their own level and in a safe way, even seated if they feel the need.
These sessions have become the lifeblood to many on the street - especially to the more isolated who have come to see their daily dance with Charlie as their routine, exercise, emotional therapy, mental stimulation and social interactivity. I have heard more than one of the older members of the street to refer to Charlie as their "saviour" and become very emotional when they think of these sessions coming to an end. Charlie uses music often chosen by the group that sparks joy, song and the desire to move - there is always someone singing along! The sessions are broken down into simple to follow movements and always includes a time to just "boogie". The first track at 10.30am plays almost as a call to everyone to come out into the driveways and begin to get moving. Once we are all out in the street, we start with a 'mobiliser' to warm up all the joints, followed by a more vigorous 'warm up' (an up tempo track with marching and movements designed to really get us going and our heart rates up). After this there is a simple sequence or new routine that stimulates memory as well as our bodies. We have even had an umbrella choreography for Singing in the Rain which caused much hilarity! Each session ends with a balance, stretch and breathing exercise to a slower piece of music and enables us to centre ourselves and stretch ready for the day – we always end with a 'hug' where we wrap our arms around ourselves as Charlie sends each of us a virtual hug.

Charlotte's Dancing in Driveways has transformed our little street with its individual households to a true community who care and look out for each other. It has given us a focus for our minds and our emotions as well as our bodies and we all feel the improvement it is making to our physical and mental welbeing.

Since its start, Dancing In Driveways has now featured in both local and national newspapers, radio and television. Has won charlotte a 'local hero' award and more importantly the love and respect of a very grateful community. 
The other amazing news is that as a spin off from this work, Charlotte's freelance work has boomed again with housing associations and charities for older adults employing her to deliver this type of dance on a weekly basis outside assisted living complexes and residential homes with residents joining in from their flat windows, balconies or socially distanced in the grounds. Bringing the joy and benefits of dance to even more!
@CharlieAEdance Twitter