Image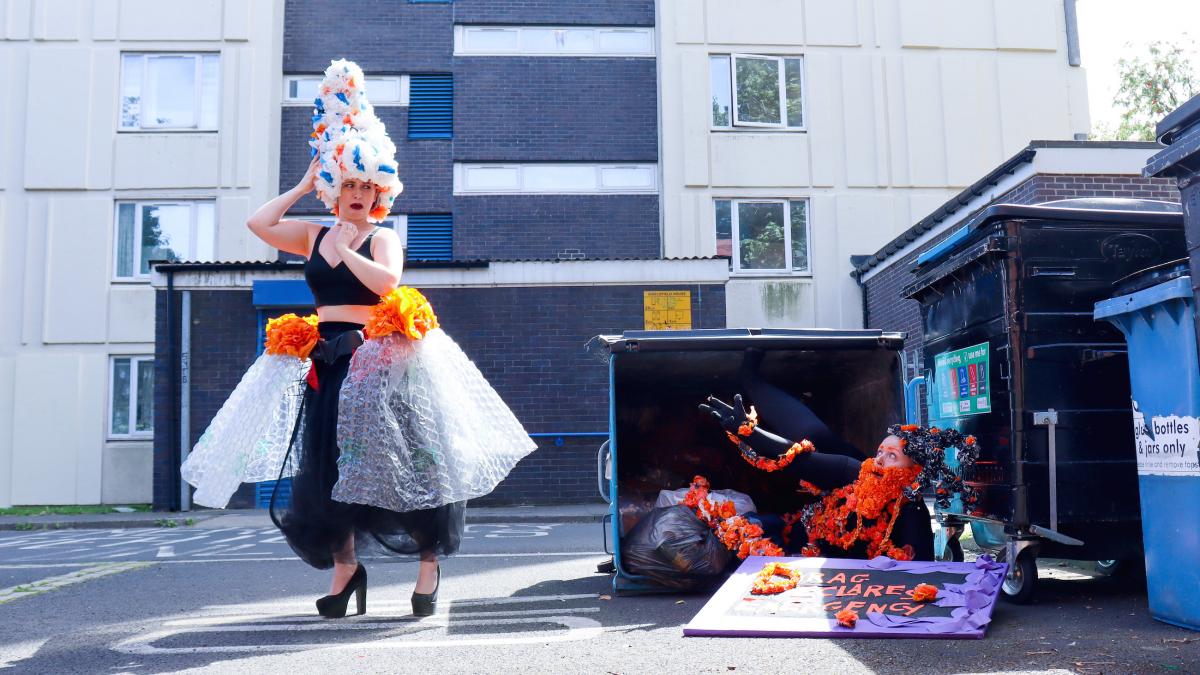 Lady Kitt, Sarah Li, Art Matters Now, 2022
What have you been doing today?
Three of my favourite things (and one of my least favourite)!
Making a drag king costume
Meeting with some fellow drag performers to plan an upcoming performance
Going swimming with my children
And …
A tonne of admin - answering emails, chasing a late payment, starting a funding application, co-ordinating childcare and arranging my up-coming access support.
At the moment I'm working with a Craftspace, a brilliant organisation based in Birmingham, who have commissioned the project Drag Declares Emergency. We are launching a digital exhibition and series of resources this week as part of the project so my main focus is on that. The project asks:
How can the lgbtqia+ community use our crafting skills to support the wellbeing of queer people and the health of our planet?
By connecting to, and collaborating with, LGBTQIA+ community groups and drag houses around the UK, Drag Declares Emergency is developing methods, materials and tools for:
planet-kind drag crafts (costume, props, wig and cosmetics making)

craft as a form of commons/a shared resource and a way to build community
Groups involved are creating drag costumes & crafts that minimise negative environmental impacts, whilst continuing to develop the joyful, exuberant, powerful art of drag!
You can check out our exhibition and resources here: Drag Declares Emergency – Craftspace
Is that a typical day for you?
Sort of - as much as I have a typical day. I try to keep a balance between doing admin and making stuff. For the last 3-4 years I've been working on "enSHRINE", a project which explores how social art methodologies can support organisational development, it includes quite a bit of strategic planning and policy development alongside art making. It might sound pretty ridiculous, but (despite being a full-time self-employed artist) it's sometimes hard to find time to actually make art! 
Having said that, I do get to do some pretty creative and fun things as part of my work. Last week I spent a whole day covering the floor of an installation with raw clay (mostly by squishing the clay onto the ground with my bare feet). Recent work has also included leading a giant origami boat race and facilitating collaborative sandwich making workshops.
When did you start working with culture, health and wellbeing, and how?
As a teenager I was involved in a local drama group, when I got too old to be a participant the venue who hosted us asked if I'd start running some of the sessions. At the time I was vaguely aware of how involvement in the group positively impacted the mental health of the young people involved (including myself). I grew up as a young carer and massively valued the creative release of being involved in the group and the social aspects. Looking back at it, those experiences have definitely informed the way I work now.
What was the last project you came across that inspired you?
"Healing Garden Illawarra" by Hiromi Tango, She's a Japanese Australian Artist who makes these stunning, overwhelmingly colourful, multi-sensory installations and performances. She's interested in the intersection between art and mental health. Her interactive installations explore and also embody the healing possibilities of art. I'm visually inspired and excited by the cacophony of colours and textures in her work as well as by her dedication to healing with art making.
I'm also super excited about a new project by Youngsook Choi, who I met on the 2020-21 Constellations programme. Her new project 'In Every Bite of the Emperor' will be investigating ecological grief through a long-term project in England and Malaysia. I'm inspired by the ways Youngsook collaborates with people and her methods for reaching out to groups and communities. Her work is often about extremely complex and difficult subjects, but her methods for working with people also include mischief and joy.
About Lady Kitt
Lady Kitt is a disabled artist and drag king, based in the UK. Describing their work as "Mess making as social glue, driven by insatiably curiosity about the social functions of art", Kitt works on long term, collaborative projects often culminating in large-scale, vibrant installations or "shrines" made from recycled paper, reused plastics and raw clay. Kitt is most interested in using collaborative creativity to (gently) dismantle and mischievously re-craft systems, structures and spaces they find discriminatory, obsolete or just quite dull.
Some things that have happened as part of Kitt's projects are:
Raw clay paddling pool dances ("Pleasure Imprints" 2023)

Policy changes ("enSHRINE Project" 2019-on )

An international, ecofeminist art magazine for, and by, children ("(small but) FIERCE" 2018-on)

 
Kitt is a trustee for Crafts Council and founding member of disabled artist led "art rabble" kin collective (North East Culture Awards winner 2022). Kitt's work has been longlisted for the 2023 Aesthetica Art Prize, shown at Atlanta Contemporary (USA), Saatchi Gallery (UK), National Centre on Restorative Justice (USA) and been commissioned by Craftspace ("Drag Declares Emergency" 2022-23), Arts&Heritage ("This, our hive of voices" 2020-22) and BALTIC Centre for Contemporary Art ('Open. Bloom. Flourish. Nourish', 2021).