Image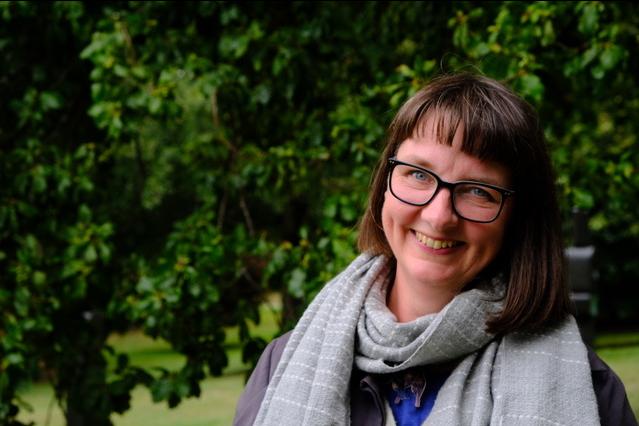 What have you been doing today?
I started the day with a walk in my local woodland savouring the early morning birdsong and the scent of hawthorn and green leaves. I always feel really safe and alive in the countryside and today felt really special; I was serenaded by a skylark, hanging in the sky and singing like its life depended on it. I felt lucky to just pause and listen, possibly the only human in earshot. The rest of the day is a mix of online meetings, emails and admin but I'll pop into the garden with my sandwich at lunch time if the rain holds off.
Is that a typical day for you? 
The days that start with a walk are always the best, but I don't always manage it. I'm a night owl not a lark, so I battle with a sluggish mind and body in the morning. Once I'm up-and-about, it depends on what's in the diary. I work for CHWA three days a week, so that could mean lots of zoom calls or a trip to Barnsley for meetings and visits. If I'm working on Other Ways to Walk projects I could be leading a mindful nature connection group or editing videos for Nature Fix, my online membership space.
My recipe for a happy healthy day involves a walk, some kind of movement (a two minute kitchen-dance, some stretches or just pegging out the washing) and some meditation. I'm a qualified mindfulness instructor and it's a really important part of my life. My daily practice provides a window into my internal sense of equilibrium, like checking the internal weather and seeing what might help me embrace the day.
When did you start working with culture, health and wellbeing, and how?
It's all I've ever known. After graduating from my art degree in 1993, a chance conversation with a health visitor led to working with people who avoided health services. That quickly progressed to working with young people hanging out in bus stops, a women's secure refuge and a project with adults with dual diagnosis of mental ill health/substance use.
There wasn't an established arts and health movement at that time, but I just knew instinctively that creative expression could be healing. Over the years I've been involved in projects that have had profound impacts on people's lives, bringing together incredible teams of health, social care and creative practitioners.
Looking back now I can see that my art practice has always been fundamental to managing my own wellbeing. Never more so than in 2021 when I developed a neurological condition (PPPD) that affected my balance and stopped me from walking and working for a year.  When I have a flare-up now I manage it with time alone with my sketchbook and a flask of tea, in the woods or in my studio-shed in the garden.
What was the last project you came across that inspired you?
In April 2021 At the Culture of Care conference I saw a presentation from Jennifer Farmer about a project she led with Zoe Palmer called 'A Dream(ing) Field Lab'. I haven't been able to get it out of my mind since. They worked with women and femmes of African heritage to re-vision their relationship with the land in the context of climate breakdown. The video they shared was gentle, but the message about the importance of rest and nourishment was profound. It really gave me confidence to work in a slow intuitive way with participants and influenced the way I approached developing content for Nature Fix
About Rachel Howfield Massey
Rachel has over 20 years' experience of working in Creative Health as an artist, project coordinator and consultant. Her work in the culture sector includes four years leading Yorkshire Sculpture Park's Art and Wellbeing programme and two years coordinating a county-wide creative health programme for Arts Derbyshire. She also worked for six months in the health sector as a manager at Live Well Wakefield, a large-scale social prescribing programme.
In May 2023 she took a part time role with Culture Health and Wellbeing Alliance as its North Regional Lead. She also leads Other Ways to Walk, which she founded in 2016 to help people connect with nature using creative & mindful approaches. Her practice is diverse & includes visual art, podcasts, writing & inter-disciplinary collaboration with scientists/researchers/ecologists/medical herbalists. Her latest project is Nature Fix – an online membership platform for people to connect with nature.
Rachel is a qualified Mindfulness Instructor, Mental Health First Aider, Walking for Health Leader and Forest Bathing Guide.  
Instagram / Facebook: @OtherWaysToWalk