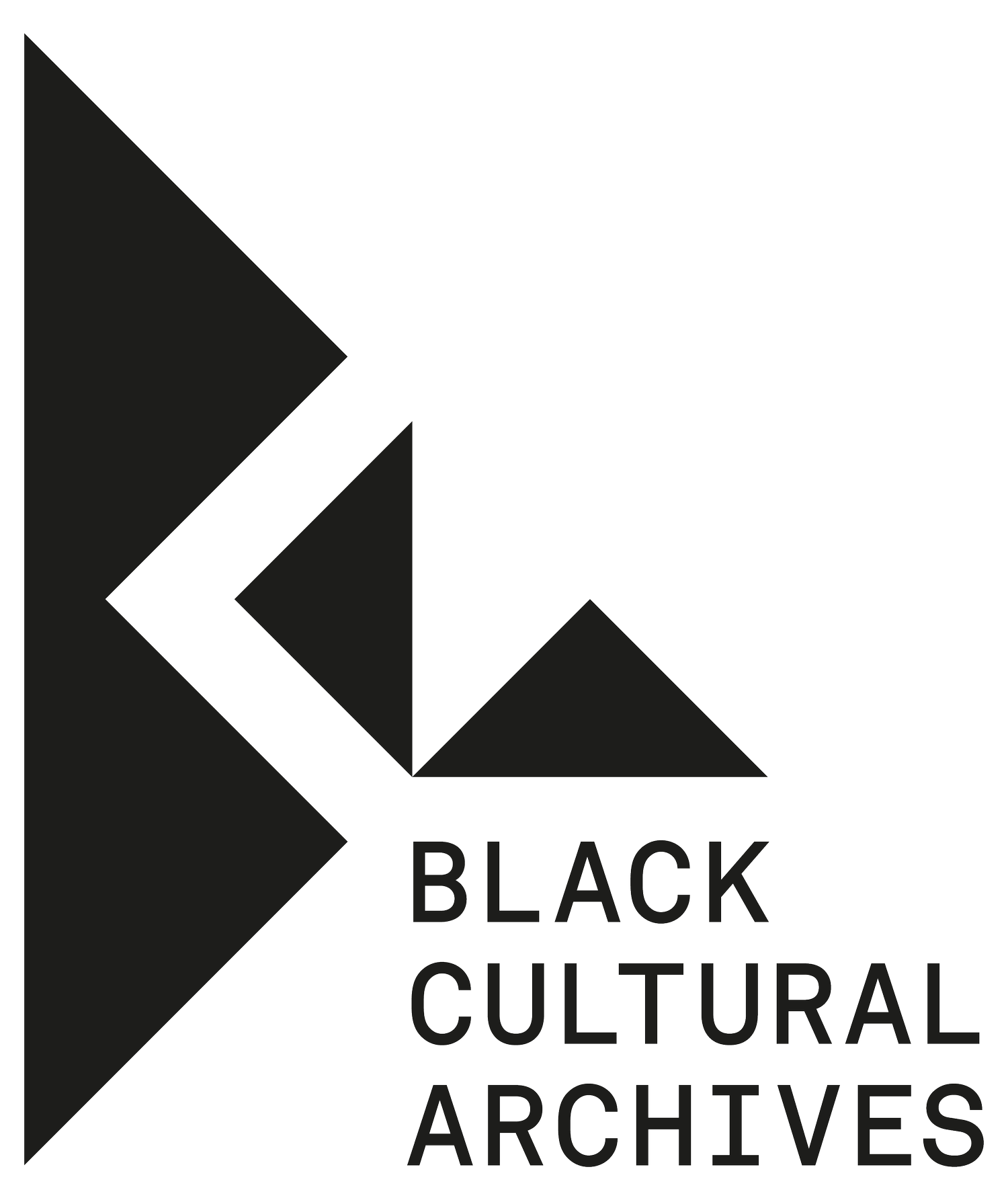 A conversation with Black Cultural Archives for Black History Month 2023, by Kheyla Anderson
Could you start by telling us a bit more about the BCA and its foundations?
Black Cultural Archives (BCA) has been around for over 40 years. Our conception was in 1981 as a result of the uprisings, and was formed by a collective of parents, educators and the community at large to ensure that 
"important acts and achievements of the past which are now scattered or pushed into the margins of European history can be assembled; where facts now presented as negative, can be re-presented from our point of view, as positive factors in our liberation."
BCA was and still is, a positive action, a way to ensure representation, and a more rounded telling of British History.
As well as the uprisings, one of the motivations to form BCA was the under achievement of Black children in British schools. In 1971 'How the West Indian Child is made educationally subnormal in British Schools' was published by New Beacon, for the Caribbean Education and Community Workers' Association (CECWA). CECWA was a group of West Indian teachers, social workers, educational psychologists and community workers, who campaigned to improve conditions for Caribbean people in Britain. This came after years of the Windrush Generation's arrival and contributions to building Britain's infrastructure post the World War 1 and World War 2. For their then children and children's children to continually be subjected to structural racism, and for the continuous wider whitewashing of Britishness contributing to racist stereotypes, educational attainment gaps and perpetuation of social inequalities and frankly unbalanced policymaking. Our founder Len Garrison sought to collect, document, and preserve literature artefacts and all other forms of artistic expression relating in any way to the roots and history of Black peoples in Britain. It was this that formed the beginnings of BCA
Today, we continue to embody our origins with our mission;
'To collect, preserve and celebrate the histories of people of African and Caribbean descent in the UK and to inspire and give strength to individuals, communities, and society'
And we do so through our programmatic streams of collect and activate, educate and inspire, and celebrate and champion.
Could you tell us about how you see (or don't see) Black History Month connecting with the work you do?
Black History Month amplifies the work we do. It is a chance where, collectively in Britain, Black History is discussed, and the Black experience is told and celebrated. At BCA we use the phrase Black Futures Month, as for us we do history every day of the year. We see Black history month as a month to look at the here and now and a chance to look forward at endless possibilities, amplifying the breadth and depth of Black people in Britain. Examples of this has been the re-imagining of the Tube Map with TFL, the convening of Black British Artists to commemorate the British Black Arts Movement, working with UCL (University College London) and 'The Ties that Bind Project' on the re-imaging of a mental health system in the UK that addresses the needs of the Black Community in Britain.
Throughout British history, narratives that strayed from the heroic portrayal of the British Empire as ethically and visibly white have been systematically overshadowed and marginalised. Nevertheless, Black History Month serves as a pivotal platform for recounting the untold stories of Black heroes and heroines, echoing Nina Simone: "There's no excuse for the young people not knowing who the heroes and heroines are or were."
For us, the significance of this month lies in its role in facilitating the teaching and accessibility of Black history. It is imperative to recognise that Black history is an integral part of our national narrative, and the very existence of Black History Month underscores a broader issue. It underscores the undeniable truth that it is not solely Black history; it is British History, without exception. Britain must confront its history and the enduring ramifications it holds for contemporary society. It is incumbent upon every individual in modern Britain, regardless of their racial background, to be well-acquainted with their genuine historical heritage.
It is really inspiring to see the work that BCA has been doing which is highlighted through the progressive celebration of 'Black Futures Month'. You will soon be exhibiting the collaborative work of Larry Achiampong and David Blandy, exploring the impact of eugenics, scientific racism and Black resistance. Can you talk a little more about this and how the BCA will continue to 'challenge the narrative' going forward?
'Challenging the Narrative: Black Resistance to Scientific Bias' is one of our current exhibitions this Black Futures month, which is a result of our partnership with Wellcome Collection and Wellcome Connecting Science. It follows Wellcome's exhibition Genetic Automata, that presents a series of four films exploring scientific racism – the false belief that there are innate differences and abilities between races. It reflects on deeply ingrained ideas about race and the role that science has played in shaping these perceptions.
The collaborative work of Larry Achiampong and David Blandy, which delves into the profound topics of eugenics, scientific racism, and Black resistance, is both thought-provoking and illuminating.
This exhibition is a significant part of our ongoing efforts to challenge prevailing narratives. Through our work, BCA aims to stimulate conversations, raise awareness, and encourage a broader dialogue about these critical issues. Our founding name African People's Historical Monument Foundation refers to us as a monument, there was the hope for there to be multiple of us, and that is still the case. There should never be just one BCA; as we strive to develop a national reach, we continuously work with our partners to challenge the narrative, and support other archives, groups and institutions who too challenge the narrative. We are conscious to not overshadow the important work of others and perpetuate colonial mentality that this is ours, but rather work with and champion the likes of George Padmore Institute, Vanley Burke Archive, Nottingham Black Archive.
We also accept areas where we still have work to do in Challenging the Narrative. Black is not a monolith, and we must continuously work to reflect different Black British identities, which are incredibly layered and complex. Intersectionality, disabilities, LGBTQIA+, to name a few, are all areas we haven't properly explored and engaged with. It is a reminder that our work is ongoing, and we must embrace the concept of the 'living archive' by Stuart Hall that he describes as 'present, ongoing, continuing, unfinished, open-ended'.
As we increase the use of technology in our everyday work we reflect on questions around equity, access, ownership. "What does it mean for an archive or collection to provide open digital access?​
​​What do we owe future generations?​ How do we create a sustainable space for our collections and the planet?​ How to discuss this with different audiences?" Topics explored in 'The Crying Child: On Colonial Archives, Digitization and Ethics of Care in the Cultural Commons', by Temi Odumosu.
The fact we still have work to do is exciting. Our collections continue to grow, and we encourage everyone to think about their history and their stories. We remain committed to our mission of challenging narratives and broadening perspectives. We will continue to activate our collections by hosting exhibitions, events, and discussions that educate and inspire; explore untold stories, and champion and celebrate a more inclusive understanding of history and the future. Our commitment to challenging the narrative is steadfast, we have been here for forty years, and we look forward to the next forty, engaging with our community in meaningful ways to effect positive change. Particularly at a time where conversations on migration, education, identity, equity is ever prevalent. After all, Black History is every day of the year.