Image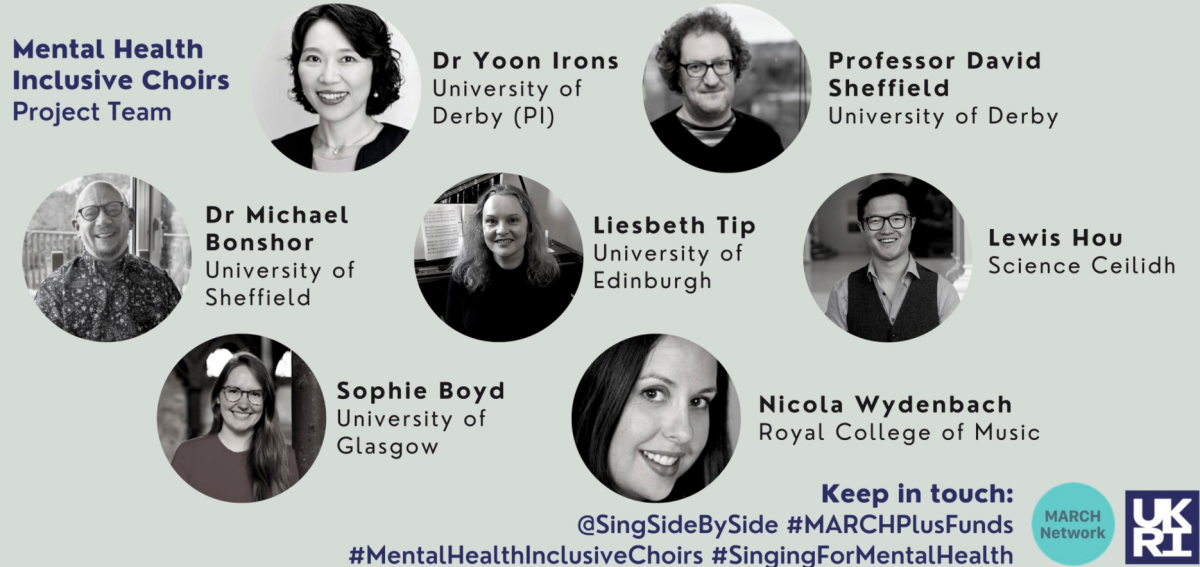 Singing
Many say music is a universal language. For me, singing is a universal language. Singing is in the centre of every culture. For example, birthdays are celebrated with songs, such as "Happy Birthday" a most well-known song around the globe. "We are 'hard-wired' to sing." This is the cornerstone for this new book, Singing, part of the Arts for Health Series, co-authored with Prof Grenville Hancox (www.singtobeat.co.uk) and edited by renowned Professor Paul Crawford (University of Nottingham).
Singing provides a bridge between research and practice, academic and everyday life contexts. It provides an overview of current research on the benefits of singing for both mental and physical health. For example, studies have shown that group singing could reduce pain in people living with long-term health conditions. Group singing also can have a range of psycho-social benefits for people living with chronic pain. Further, singing seems to be a complex exercise which could maintain and/or improve lung health. This book also illustrates how regular singing exercise could have benefits for a range health issues, such as sleep apnoea, pelvic floor malfunction, burnout, bereavement, and postnatal depression.
In addition, this book includes three case studies, which illustrate the power of singing: the authors interviewed Singing MedicineTM working at the Birmingham Children's hospital: Singing MedicineTM has accompanied many very poorly children and instilled hope and love in them. 
The book includes a discussion of the potential barriers which may deter people from singing and suggest some useful strategies to overcome them. Barriers include personal belief, physical limitations, social perceptions, educational system and government policies. Many people seem to believe that there are some people who 'can sing' and others who 'cannot', and this can be an inhibiting factor. However, the authors argue that benefitting from vocal expression is our birthright as members of the human race. Everyone is a singer who can experience the health and wellbeing benefits of singing, and these benefits depend upon participation rather than the quality of musical or vocal artistry.
MARCH Mental Health Inclusive Research Project (www.singingsidebyside.co.uk)  
Singing together, whether in choirs or informal community groups, is a popular activity in many contemporary settings, including groups specifically formed for people living with mental health conditions. The physical, psychological, and social health benefits of group singing have been receiving increasing media attention, and many choirs have been formed with the explicit aim of improving wellbeing.
The leaders of these singing groups are 'frontline workers' in the community, facilitating enjoyable and uplifting singing experiences in a variety of musical and social contexts. They are constantly multi-tasking, using their skills in musicianship, leadership, and group facilitation, often while also seeking community funding, encouraging inclusive musical participation, and providing rewarding performance opportunities. 
When working with people living with mental health conditions, who can present with a range of different concerns and needs in the context of singing activities, group leaders may need additional skills, support, and knowledge to help the singers to fully benefit from their group singing activities.
So far, however, few specific resources have been made available to singing leaders who run groups with a particular focus on mental health. Therefore, the Mental Health Inclusive Choirs Research Project, funded by the MARCH Mental Health Network supported by UKRI, aims to fill the gaps in the research and provide a bridge between the practice and research. Currently, a systematic literature review is underway, to summarise the research-based evidence of singing leaders' roles and required skills. We have also conducted online surveys to learn from both the 'frontline workers', i.e., group singing leaders, and the singers about their experience and needs.
Now, we are recruiting group singing leaders for our Toolkit Action Research. Please visit our website for further information. Your contribution will shape the future practice of and research in group singing in the context of mental health and social prescribing, to promote mental health inclusive group singing across the UK.  Thank you very much!
About Dr Yoon Irons
Yoon is a researcher, singer, musician, and music therapist. Previously, Yoon has studied and worked in South-Korea, Germany, and Australia. Currently, Yoon works at the University of Derby; her research focuses on the health and wellbeing benefits of singing.