Image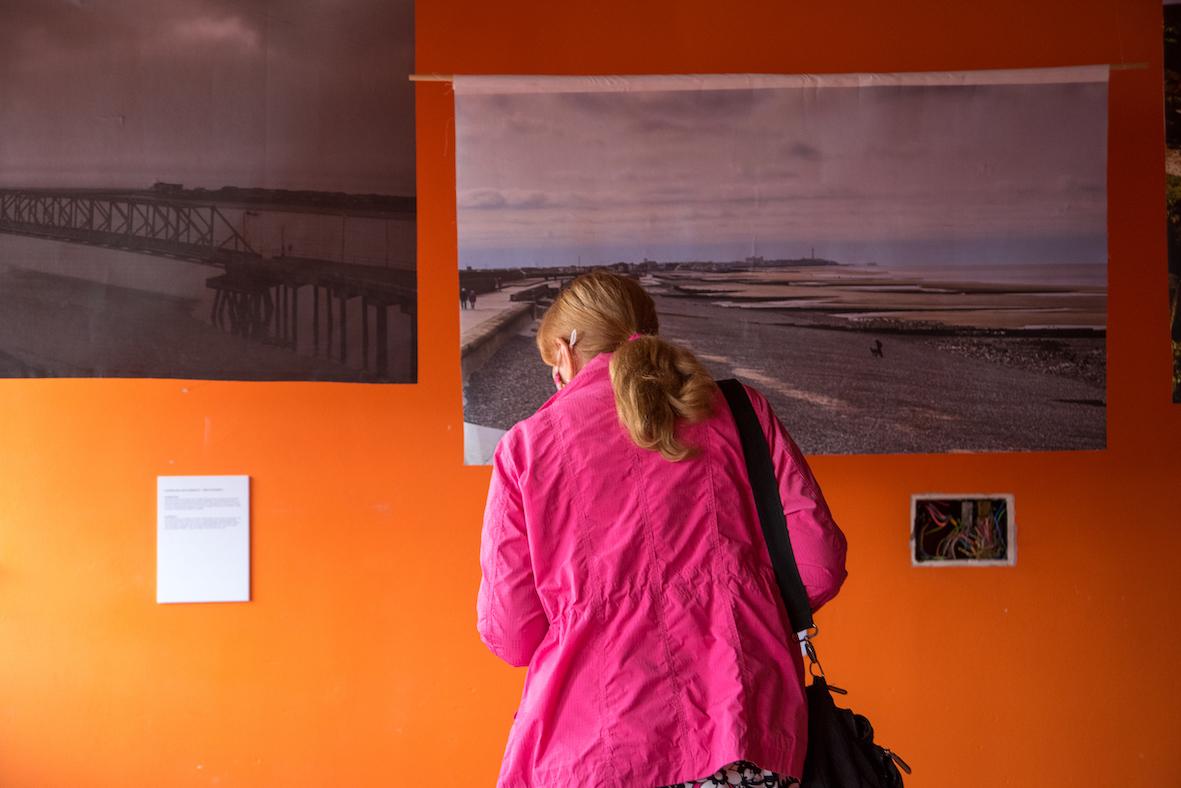 Visitor to the Inside Out Exhibition at Fleetwood Hospital in Fleetwood. Image credit: Claire Griffiths
How one of England's oldest Creative People and Places Projects is Growing Grassroots Artists and Makers with a DIY Attitude
By Alex O'Toole
It's a wet October day in Fleetwood. A group of locals have taken residence for the day in the former Fleetwood Hospital on Pharos Street. They have come to learn from their neighbours how to make different forms of art.
Self-taught maker, Lizza, has taught them all to make a 'headdress to impress'; mental health worker, Val, has shown them how to make beautiful paper flowers; and two sisters, Toluwani and Sinmiloluwa, just 13 and 11 years old, respectively, have guided them through a lino-printing session.
Now it is the turn of Kate, who has just put down a blow torch and has begun rolling a marble around a canvas dripping with paint, a group of enthralled locals looking on.
"Can you use dobbers, or does it have to be singles?" someone asks.
"Dobbers - I haven't heard that word in years," says another.
Everyone laughs.
"You can use any size of marble," says Kate, with authority.
Some people write this down.
Earlier in the year, on a balmy evening in June, these same local artists and makers, alongside a host of others, transformed the ramshackle rooms of the former hospital's upper floors into a gallery space to house their creations for the inaugural Inside Out Exhibition.  
In the larger rooms, handmade benches, bird boxes, and fluorescent photos of the town's industrial past held space with installations of fabric fish and a dining table set for six with a hand-printed tablecloth and teacup candelabras.
In a side room, knitted seagulls, perched on deckchairs set up on the sandy floor of a makeshift beach, stared out of the internal windows. A garden of paper flowers was planted in the adjoining room, and in the lobby, a hospital cubicle curtained off a large-scale painting of a naked woman with a cat's head.
The strange and the beautiful, the natural and the unnatural, the mundane and the magical: all found their place at Inside Out.
The locals flocked in.
Who'd have thought that her down the road had been doing all this behind closed doors?
For most of the locals involved, the Inside Out Exhibition was the first time they had shared their work publicly. Many were nervous about the endeavour, a number of them having backed out several times before the opening, only to re-join the fold after encouragement from Gillian Wood, artist-in-residence at LeftCoast, Blackpool and Fleetwood's Creative People and Places project.
It was Wood who spotted the town's exceptional talent for making, when she set up a Scrub Hub there in 2020, making scrubs for the NHS in response to the pandemic.
"Through conversation with local sewers at the Scrub Hub, it became apparent that a lot of people were doing a lot of making in their houses. Knitting, sewing, making clothes and painting, all sorts, but they were doing it individually for themselves because lockdown gave them the time to do it," said Wood.
"I just started painting during lockdown," said Kate Ferris, one of the local makers involved in both the Inside Out Exhibition and the Studio Day.
"I wasn't sure if my work was any good, but when Inside Out came up, I thought, why not? Give it a go. I didn't know anyone else who was doing it, but Gill was so helpful, so patient and encouraging. If I was having a doubting moment, she'd always talk to me. I felt like I had the support. It was nerve-wracking putting my working up against other people's, but it's given me a lot of confidence. I am really glad I did it. When people asked me about how I got involved in painting and the exhibition, I was able to say to them with confidence, just have a go, that's what I did. I sold one of my pieces at the exhibition, and since then, I've sold a couple of pieces at commercial exhibitions in Blackpool and Fleetwood. It's amazing, considering I'd never shown my work to anyone before this."
Like Kate, most started out making for themselves as a way to keep busy, drawing on their locality, natural and everyday environment for inspiration. Cheap, found, recycled, or repurposed second-hand materials from charity shops kept production costs low. Even the veteran making large-scale rocking horses found a way to work with mastery at low cost. His horses are crafted by gluing layers of plywood together, then sanding them down by hand for hours and hours. The result is remarkable.
The ease of consuming rather than making as a mark of modern culture, is a provocation that LeftCoast have explored before. In 2019, their Real Estates programme in Fleetwood gave rise to Front Door, a new community led streetwear brand created by young people in Fleetwood and former LeftCoast artist in residence, Ocean Farini: a whole collection dedicated to reclaiming working-class creativity for working-class people.
During lockdown, getting dressed was, in large part, optional for the majority of us, and the social norms of working, shopping, and socialising weren't happening in the same way. Restricted to our homes, it was perhaps inevitable that so many sought to stave off boredom through creative activities. However, with the support of LeftCoast, Fleetwood's creations became a catalyst for change.
"Some of the work that Gill developed with the makers - transposing their drawings into fabrics and wallpapers - started a conversation about how this culture of domestic creativity is authentically ours," said Laura Jamieson, Creative Engagement Manager at LeftCoast.
"We can have our own art on our walls, and we can design and make our own fabrics. We don't necessarily have to buy in to consumerism. One resident involved declared she was only going to make her own clothes from now on. She wasn't going to buy them anymore. That's where it starts to become really interesting. Fleetwood is a town whose lost industry as a fishing port is still very keenly felt. This has led to deprivation issues associated with lack of investment and a mourning for its past identity. Projects like Front Door and Inside Out are helping people to consider how they can use their own local culture and creativity to help them establish an alternative identity, one which is based on value rather than cost, which could ultimately be more powerful."
It's a radical approach, but was there ever a more radical act in life than choosing to be, and to value, your own unique self? For the community of Fleetwood, it could be the re-making of them.
About Alex O'Toole 
Alex O'Toole is a Creative Director, Producer and Writer.
Over the last twenty years she's broadcast the sound of oystercatchers into train carriages, turned a hospital ward into a herbarium, transformed libraries into imaginariums and conjured inner worlds onto the streets of Lancashire.
Her work spans live, print and digital platforms and she collaborates religiously.
As a producer, Alex is on a mission to encourage more non-arts organisations to choose a creative approach to unlocking the potential of their offer through the arts.
 Her work as a strategist for the creative and cultural industries is geared towards developing partnerships and growing audiences to elevate their approach and bring clarity to their vision.
In addition to her independent work for the creative and cultural industries, Alex runs participative arts organisation, Fable Arts, and online professional development platform for artists and creatives, Good Creator.
She is also currently the Chair of Arts Lancashire, an independent body of regional arts partnerships working together to highlight and develop the importance of the arts to Lancashire's economy and cultural narrative. 
 About LeftCoast
LeftCoast is a programme of arts and cultural activity in Blackpool and Wyre on the Fylde Coast.  It is an independent organisation supported by a consortium of partners including Blackpool Coastal Housing, Blackpool Council, Wyre Council, The Grand Theatre and Merlin Entertainments Ltd who comprise the steering group together with a number of community representatives. It is funded through the Arts Council's Creative People and Places Programme.
For more information about LeftCoast go online to www.leftcoast.org.uk, you can also like LeftCoast on Facebook at www.facebook.com/LeftCoastUK or follow on Twitter at http://twitter.com/LeftCoastUK.