Last week saw the 1st anniversary celebrations of m4d Radio – an award-winning internet radio stream developed as part of the Music for Dementia campaign, a national campaign calling for music to be an integral part of care for people living with dementia. The week of celebrations included support from a range of celebrities including Vicky McClure, Dame Arlene Philips, Shobna Gulati, Julie Hesmondhalgh amongst others, all sharing playlists and their personal stories of their connections with dementia.
"This is such a lovely thing. Xxx" (Julie Hesmondhalgh)
"Happy first anniversary to @MusicforDemUK's m4d radio! All this week the station is featuring playlists from celebrity guests like Shobna Gulati, Julie Hesmondhalgh, Len Goodman and Vicky McClure. Tune in at http://m4dradio.com" (Lauren Laverne)
The radio stream was conceived as a response to music therapists and music practitioners not being able to deliver in-person services in care settings and community services due to the pandemic and social distancing measures. m4d Radio was launched in June 2020 to help keep the music going and keep people connected through music during a time of extraordinary disconnect.
"So glad to have found you! My husband has early-stage dementia. We both love this radio station and have listened to all eras. We sing along (was belting out 'My old man's a dustman' the other day…great fun) and often have a dance too. It gets both our memories working too when we try to guess the artists."
Over the past year, we have seen just what a vital role music has played in supporting people living with dementia as well as the general population. From singing on balconies to outdoor performances in gardens to live streamed concerts and singalongs, we needed to find other ways to keep the music going. We took the leap with the campaign to play a role in doing just that through creating m4d Radio.
It was a rapid development, coming online within just three months of the idea being first discussed. We worked with people living with dementia and carers, piloting, testing and listening to what they wanted in a radio stream designed specifically with them in mind. 
We know that music helps people caring for and those living with dementia, but we also recognise that it is sometimes hard to access great music and content online without adverts. We wanted this internet stream to be free, easy to use and include music that people love to listen to. Crucially, that means being advert free. This is important as we know that many people with dementia find the interruption of adverts disorientating and confusing, often compounding the symptoms of dementia and negating the positive benefits of music. 
The radio stream is designed to be listened to wherever people reside – their own home, care setting, hospital, hospice. m4d Radio is for both people living with dementia and those who care for them - professional and family carers. The music provided via the mix stream follows the rhythm of the day. for example motivating, upbeat music to help start the day, hits to enjoy with others throughout the day, and wind-down classics to ease into the evening.
As part of the 1st anniversary celebrations, we also launched our 'Listen Again' function, where you can build your own schedule of favourite playlists from our 'library'. We've also introduced a dedication hour where we celebrate and share stories of the difference carers have made to the lives of those living with dementia. You can dedicate a song and share a message via our request page.
Those caring for people living with dementia have the potential to incorporate music into the care they provide. However, for a variety of reasons, such as lack of awareness around the power of music or confidence, they may not feel able or equipped to. The aim with m4d Radio is to empower carers through providing meaningful music and useful resources and instil confidence in incorporating music into the care they provide. For example, our '5 ways to use music' resources provide ideas on how to incorporate music into the every day.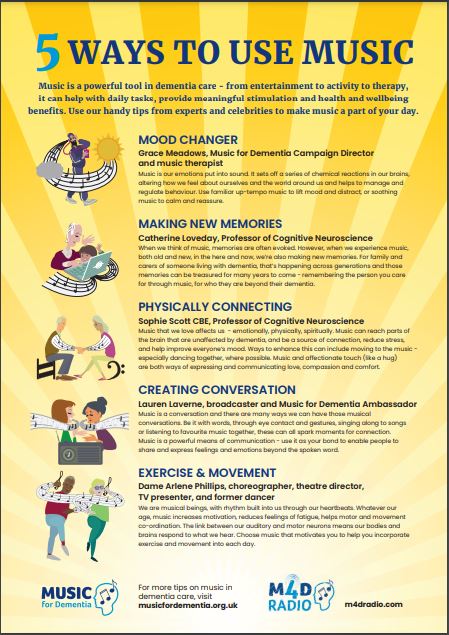 We recognise that the type of music we like to listen to, and the way we listen to it, is a personal choice and that not everyone has access to the internet. As a campaign, we are promoting, funding, and supporting the full range of musical offers for people living with dementia and their carers; from music therapy, live music, interactive music-making sessions, intergenerational activities, singing groups, playlists, choirs, dementia discos to listening to radio. This radio stream joins the suite of assets the campaign has already created such as the information hub via www.musicfordementia.org.uk and our www.musicalmap.co.uk. It's about the right music, at the right time, delivered in the right way.
"Thank you so much for setting up this radio station. I have been trying for ages to find a radio station which plays 'our kind of music' to no avail, but at last have found you. Absolutely brilliant. Long may it flourish."
Director of the Music for Dementia campaign, Grace has a life-long career in music, having initially trained as a professional bassoonist. For the last decade she has worked as a qualified music therapist in a variety of health, social care and educational settings with children and adults across the lifespan.
Her early campaign experience was developed at the Music Manifesto, and Sing Up, the national programme to reinstate singing in primary schools. A passionate voice for the power and value of music, Grace later worked for the British Association for Music Therapy, advocating for the inclusion of music and music therapy across health, social care and educational systems.
Grace is passionate about the value of music, the arts more broadly and culture to enhance and enrich lives, and the power of people and collaboration to create transformative impact and change. ​