Image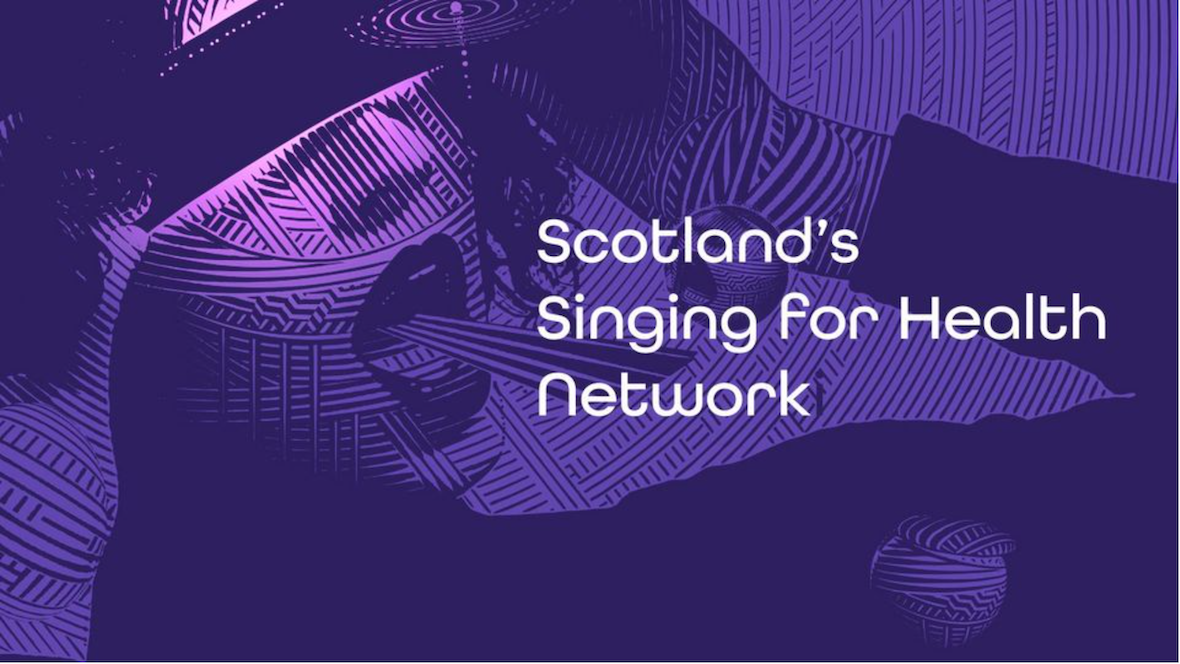 by Dr Brianna Robertson-Kirkland, Principal Investigator for Scotland's Singing for Health Network and Lecturer in Historical Musicology at the Royal Conservatoire of Scotland.
_______
This blog will reflect on the newly established Scotland's Singing for Health Network, but before we begin, let's first ask 'What is Singing for Health?'
Research shows that singing is beneficial for health and wellbeing, and not just in a general sense. Singing can provide specific support to those with a variety of conditions (some of which are discussed on Scotland's Singing for Health website). In Scotland (and all around the world), there are many Singing for Health groups that support the management of a range of conditions such as respiratory conditions, dementia, Parkinson's Disease, and mental health concerns. While there are so many groups in Scotland, not everyone knows about them. That was just one of several reasons why we decided to establish a Singing for Health Network in Scotland.
When and where did the idea for a network emerge?
In May 2020, singing for health practitioners from across Scotland came to the Spheres of Singing conference to discuss and promote the power of singing for health. Many highlighted the frustration of working in isolation, with little access to up-to-date research, or even the opportunity to share their experiences with other practitioners working in the same field. We decided to form a network that would resolve many of these issues.
Just a few months later, the Royal Society of Edinburgh awarded the newly formed Scotland's Singing for Health Network a 2-year networking grant to support a range of activities that would bring Singing for Health practitioners together with medical practitioners and researchers. The network is led by me (Dr Brianna Robertson-Kirkland), Liesbeth Tip who is based at the University of Edinburgh and Dr Sophie Boyd. All three of us have experience working with Singing for Health groups. Indeed, Sophie currently runs a Singing for Breathing group in Glasgow, Liesbeth founded HarmonyChoir, and I led Musical Memories, a group to support those living with dementia, from 2016-17 before I obtained my position at the Royal Conservatoire of Scotland.
The funded network activities officially got underway in May 2021 and since then we have delivered much of what we set out to do. We hold regular practitioner meetings on Zoom, where practitioners come together and share experiences, ask questions, and workshop on how to resolve any challenges they are currently experiencing. We also have an active Facebook group where practitioners share what they are up to in their groups, and any requests to establish new groups.
We have recorded a podcast series that showcases different approaches and issues related to Singing for Health. On each episode, we invite Singing for Health practitioners including Rachel Hynes, Caro Overy, Stephen Deazley, Kim Edgar, and Carole Miller to share what they do with their groups during a typical singing session, and medical experts/researchers, including Yoon Irons, Jane Lewis, Veronica McBurnie, and Katey Warren, to discuss the health benefits of singing. In season 1, we have explored Singing for Parkinson's, Singing for Lung Health, Dementia Inclusive Singing, Singing for Mental Health, and Singing for Cancer Care. In season 2 (to be recorded in the autumn) we plan to expand the content to look at other Singing for Health initiatives taking place in other parts of the world, how singing could become a form of social prescription, and how singing can support other conditions we did not previously cover in season 1. Episodes are available to listen to at https://anchor.fm/scotlands-sfhn or on our website https://portal.rcs.ac.uk/scotland-singing-for-health-network/podcast/episode-1-introducing-the-network/. We also provide detailed show notes so that listeners have access to the research discussed in the episode.
The network also hosts a range of workshops to support Singing for Health groups allowing them to showcase their work as well as providing a space to consider larger issues such as how to engage and work alongside health professionals.
Finally, we are pulling together a map showing the locations of Singing for Health groups in Scotland. At the moment, we have a beta version of the map showing groups in the Greater Glasgow area, as well as links to research evidencing the potential impacts singing can have on individuals, patients, service users, and singers. We hope that the map will be useful to those searching for a Singing for Health group in their area and to health professionals such as nurses, GPs, and link workers who might want to recommend a Singing for Health group. We know that new Singing for Health groups are being established all the time, and as such we have a form on our website so that people who know of a group or have started a group can send us the details to include on the map.
There are a lot of resources on our website so far, and we are going to continue populating it over the next year. If are interested in our work and would like to be more involved in Scotland's Singing for Health Network, please get in touch. The details are included below:
Website: https://portal.rcs.ac.uk/scotland-singing-for-health-network/
Email: singing-for-health@rcs.ac.uk.
Follow on Twitter @ScotSingHealth
Scotland's Singing for Health Network complements the broader work of the Singing for Health Network UK, whose aim is to bridge research & practice and support the growth of the Singing for Health Movement. Featuring research summaries, articles, resources and a range of events and podcasts covering the many different aspects of Singing for Health, the Singing for Health Network attracts researchers, practitioners and health professionals from around the UK and internationally. To find out more about the Network, its new season of events and how to join, click here.