Image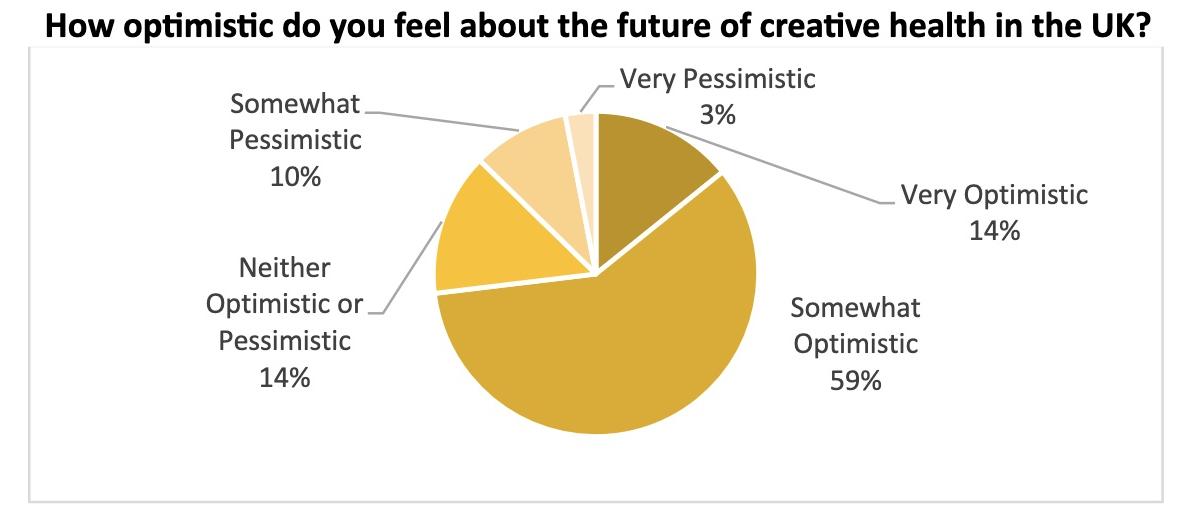 by Jonathan Tang, University of Sheffield
Supported by the Arts & Humanities Research Council through the White Rose College of the Arts & Humanities
The aim of the UK State of the Sector Survey is to enhance our understanding of the creative health sector in the UK, enabling us to advocate for creative health and provide more helpful resources. This online survey was conducted between February and April 2023, with a total of 200 respondents representing England (77.5%), Northern Ireland (11.0%), Wales (6.5%), and Scotland (5.0%). In this blog post, I will share some key takeaways and interesting findings.
As a whole sector, a total of 145,332 people directly benefitted from creative health programmes in 2022. On average, each respondent worked with 897 people directly. The majority of respondents worked in arts or creative organisations and used a wide variety of artistic mediums. The most reported art forms include visual or plastic arts, music, creative writing or poetry, and dance or movement.
Majority of respondents reported working in small organisations with fewer than five permanent staff. Notably, smaller organisations (e.g., charities) employed many freelancers, whereas larger organisations (e.g., local authorities or various National Health Service [NHS] Trusts) relied heavily on volunteers.
In terms of funding, most of the money came from the various UK Arts Councils, Trusts or Foundations, Local Authorities or Councils, and the NHS. This funding primarily supported programme delivery (i.e., research, planning, and execution), relationship building with organisations and participants, and evaluation. Training and well-being support were least funded, and respondents overwhelmingly indicated these areas to be particularly important.
For freelancers, the average reported income was approximately £9,000 per year (ranging from £1,200 to £45,000 per annum). When creative health earnings comprised 100% of the freelancers' income, the average income was approximately £15,000 per annum. Freelancers charged an average hourly rate of £55 (ranging from £10 to £175) and an average daily rate of £288 (ranging from £150 to £550). Of all the freelancers in the survey, 41% were members of a union, and 91% indicated that they would work for less than their standard rate.
Finally, 73% of respondents felt optimistic about the future of creative health in the UK, with 13% expressing pessimism and 14% feeling neither optimistic nor pessimistic. In particular, one respondent expressed a tension, sharing that they
"feel optimistic but as a realist there is still a lot to be done in terms of changing attitudes, creating opportunity, and having a wider strategy on how we can work together better."
We look forward to publishing all the results from this survey very soon. We would like to thank everyone who participated in the survey and welcome any feedback on our findings.
Further detail can be found on the attached pdf.