Image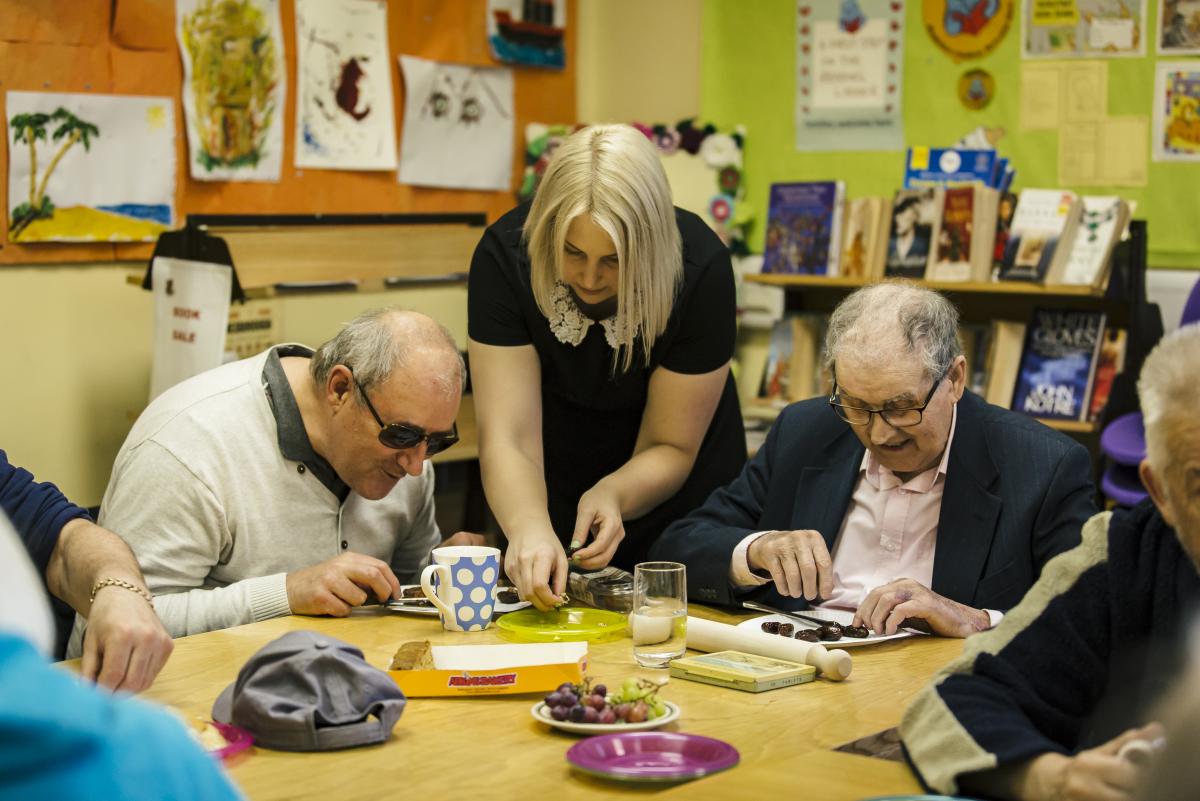 History Club, Doncaster Heritage. Photo: James Mulkeen
by Victoria Ryves, NPO Programme Manager, Heritage Doncaster
About History, Health and Happiness
In 2018 Heritage Doncaster launched History, Health and Happiness after successfully joining Arts Council England's National Portfolio.
History, Health and Happiness aims to tackle isolation and improve wellbeing in four key areas of Doncaster, by using museum collections as the basis for outreach and community engagement. 
The programme of work builds on the work of several funded projects, including the National Heritage Lottery Funded Doncaster 1914-18. (weblink: www.doncaster14-18.org.uk). During these funded projects staff began to be able to see and understand the impact that engaging with history and museum objects could have on participants, particularly when objects were used in community settings and outside of traditional museum spaces.
Wellbeing programmes are familiar territory for museums.  Museums are traditionally places of learning, connecting and taking notice- three of the five ways to wellbeing.  However, Heritage Doncaster was keen to establish foundations right in the heart of communities, outside of their venues.  The four community areas were identified as areas of deprivation, poor health and also areas where residents never or rarely visited Doncaster's Museums. 
After a period of relationship building, on the ground research and planning, History, Health and Happiness's activities began in 2019. Activities are delivered in collaboration and partnership with other organisations (including social isolation charity b:friend: weblink: https://www.letsbfriend.org.uk/ ) and independently. They take place in libraries, community halls, family hubs and social spaces around the borough. 
Activities include History Club- a monthly hands-on heritage session at clubs ran by b:friend, co-curated exhibitions and Herstory, a weekly social group for women that explores the stories of women in the past. 
Impact
In order to understand the impact the programmes have, and to advocate for a Doncaster wide Arts on Prescription scheme, History, Health and Happiness is evaluated by Arc Research and Consultancy Ltd and Sheffield Hallam University. 
History, Health and Happiness's first impact report was published this summer.  The data in the report is based on regular wellbeing questionnaires completed by participants.  The evaluators say that the data says they can infer that "participants are experiencing new levels of connectedness and are building their relationships within their community". Participants are also "well engaged in project activities and learning things that are new to them". 
The statistics show that 93% of attendees meet new people. Participants experience a 20% increase in feelings of interest in other people, an 11% rise in feelings of belonging and connectedness and a 20% increase in optimism about the future. Participants have a 23% rise in confidence, 11% rise in happiness and 96% made someone else feel welcome.  We also know that 400+ objects were used in outreach activities for the first time, we made 2500 cups of tea, had 2086 interactions, created 14 new partnerships and spoke about 40 topics chosen by participants in 300+ hours of social sessions.
Behind the statistics are the stories of real people and communities that are being impacted by the programmes.  One Herstory participants has said "Herstory has changed my life. It gives me something to look forward to."  Further to this, History, Health and Happiness's uniqueness and impact has been acknowledged within the sector. An Arts Council England Assessor said, "The social relevance of this targeted programme is highly applicable here given the issues of geographical inequality identified by the service, taking the work of the service out to these localities is therefore a major commitment."   History, Health and Happiness can confidently claim that it is making a real difference to individuals and communities.
You can read the full Impact Report here: https://www.heritagedoncaster.org.uk/projects/happyhistory/history-health-and-happiness-impact-report-2019-20/
What next?
Looking to the future, History, Health and Happiness is considering the impact of coronavirus, community delivery models and additional partnerships, as well as wider museum programmes and practitioner wellbeing. 
During lockdown, History, Health and Happiness were keen to ensure that their participants remained engaged and supported.  A technology audit revealed limited access to the internet amongst participants.  This meant that despite the museum sector's push to get things online, History, Health and Happiness explored analogue options.  So far over 2800 activity packs have been distributed to adults experiencing isolation via charities, food banks, social prescribing and to care homes.  An audio mindfulness series, Doncaster's Five Minute Histories, has also been developed (weblink: https://www.heritagedoncaster.org.uk/projects/happyhistory/doncasters-five-minute-histories/).  Moving forward, this digital inequity must be factored in to future planning, and future proofing, the programme. 
The lockdown period has also revealed new opportunities for partnerships, including new relationships with food banks and third sector organisations. A pilot of digital social clubs has also been introduced, opening up the programme to some new audiences as the problem of isolation became more widespread.  Moving forward, History, Health and Happiness will be exploring models for community delivery and to embed itself further at the heart of communities.
Lockdown also shone a light on the impact that working in the field of culture and wellbeing can have on practitioners.  The History, Health and Happiness team found themselves virtually in the homes of participants and usual boundaries seemed more difficult to maintain.  Participants struggled to navigate the "new normal", and this meant practitioners felt more responsibility for support.  History, Health and Happiness is exploring practitioner wellbeing, including participating in CHWA's Creative Well programme, seeking additional training and building in programme time for self-care and reflection.
The success of History, Health and Happiness has also seen Heritage Doncaster embedding wellbeing as a service-wide value, with programming and online content, and in the design of the new Doncaster Gallery, Library and Museum (weblink: https://www.doncaster.gov.uk/services/planning/doncaster-s-library-and-heritage-development-plan)
Overall, History, Health and Happiness hopes to build on the strengths of 2019/20 and continue to make a real and meaningful impact in Doncaster.  For more information, visit: www.heritagedoncaster.org.uk/happyhistory