Image
Jonathan Parker, Man About Town, Creative Frame CIC
Man About Town is an ongoing project, created by Jonathan Parker of Creative Frame CIC, in partnership with Cloth Cat Music Charity, "to stop people killing themselves". The project launched in December 2019 and is funded by Leeds Community Foundation until 2022. Originally focused on men between the ages of 40-55, the group has grown to include men in their mid-twenties up to the age of 80 with sessions that encourage creativity, exercise, and socialising. Using art forms such as music, photography, and painting Man About Town provides a space for men to share their experiences — combatting the rising number of men facing isolation as well as the suicide mortality rate — in Yorkshire and Humberside. According to one project leader, "the statistics are why the fund got put together in the first place." 
Man About Town was inspired by the report created by Alan White in 2016 - The state of men's health in Leeds. The main report says:
"Men typically have higher levels of preventable premature death and chronic ill‐health compared to women, and Leeds is no exception… The male suicide mortality rate in Leeds was nearly five times that of females. The rate for years of life lost due to suicide for men aged 15‐74 years in Leeds was 28% higher compared to the rate observed across England and Wales, but the female rate in Leeds was similar to the female rate observed nationally."   
In response, the original structure was to deliver sessions around music, digital, and film: 
"Originally we set up the sessions focused on creativity; we have some excellent musicians, but it was never about being good."   
The first activities to be offered included Virtual Reality (VR) play days at a theatre space, where beneficiaries used software to paint within a virtual space — introducing the group to art created through tech. The VR programmes also enabled Man About Town to change the programme each week:  
"We would have men challenging themselves on virtual plank walks and run around a physical space on one of the many free programmes."  
Following the onset of the pandemic, the Man About Town project needed to adapt their approach. With isolation increasing as a result of the pandemic, it became apparent that support was required more than ever. 'Vinyl Picnics' were introduced where attendees could safely listen to music together through a portable vinyl player, followed by ukulele sessions at allotments, weekly photography meetups and virtual open mic nights. Creativity is the underpinning theme helping the groups with their mental health — but tapping into nature and exercising is also a great tonic for isolated men from group walks around local parks to golf sessions at the driving range and forest bathing walks.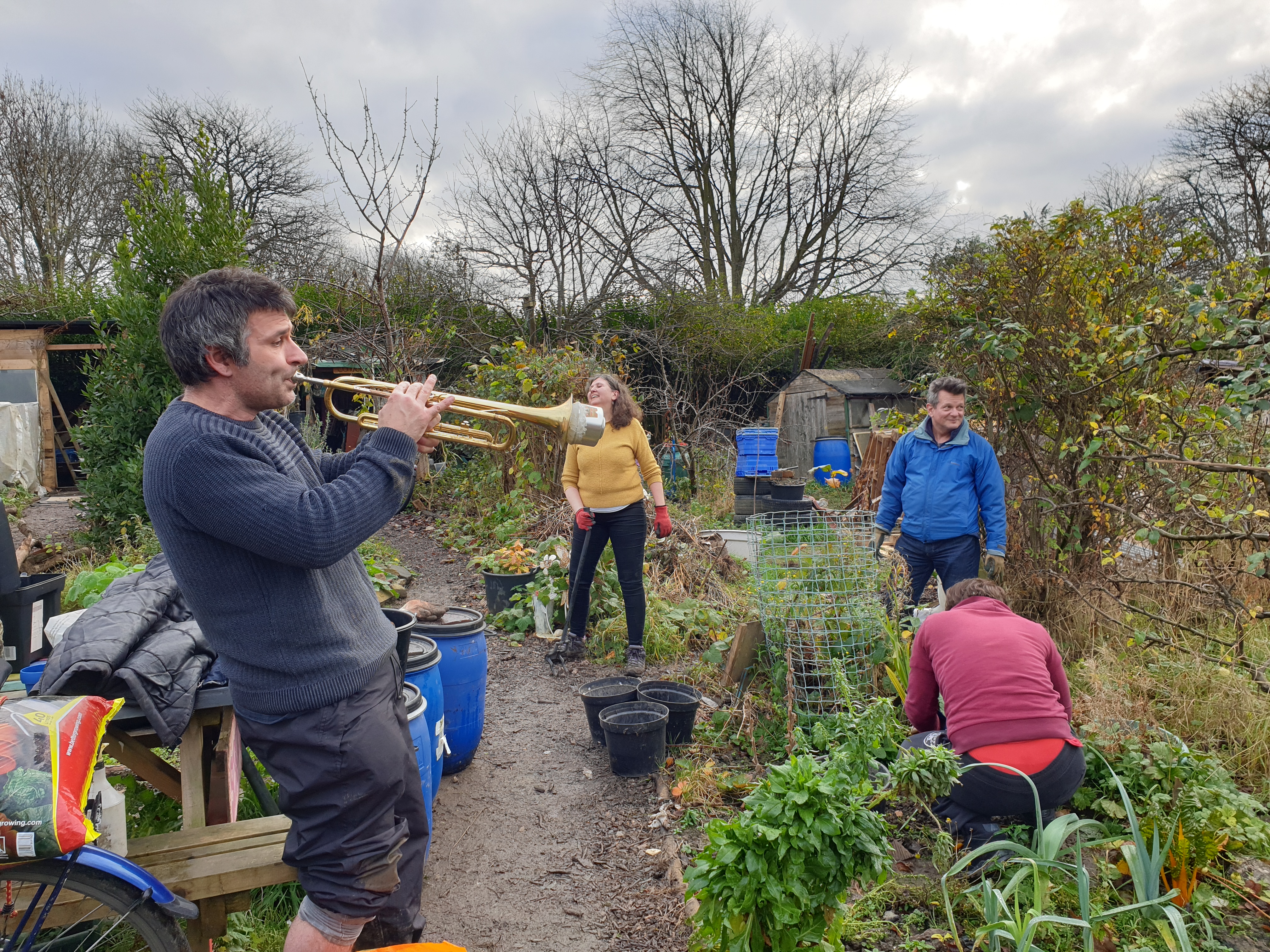 Through challenging themselves with engaging, physically demanding and creative activities, including teaching, learning and practicing use of musical instruments, those who participate have become empowered to maintain improvements in mental health. These activities are examples of some of the things Man About Town have provided that have enabled the beneficiaries to change their outlook and mindset:  
"I found these (activities) really helped my state of mind and gave me something to get up for. I was introduced to other members who had experienced similar problems to me, and we could come together and produce something new that we could be proud of."  
Beneficiaries are regularly in conversation with one another to check in on their current mentality and mood. Tools such as a wellness wheel are also used to help the participants manage their mental health. This reflection enables the project to be flexible in its approach — and means that the men can impact the project directly with their own creative practices. It allows each participant to take ownership of the activities and gives them a toolkit to create changes in their own life.   
A group's leader reflects on a participant's story: "A referred guy, in crisis with regular visits to his home, came to us, and within two weeks was teaching people ukulele in groups, was participating on Zoom which he'd never done in his life and had taken ownership using music and he's proud of it. His smile is so big now and I see a transformed person."    
A learning point from the project is the importance of accessing training (such as to support participants experiencing distress), creating professional boundaries, and seeking out clinical supervision. The group has become its own support structure where beneficiaries, volunteers, and group leaders can lean on each other with stories about their own experiences — which is a great example of the project's success. However, it's vitally important that the projects' creators are in a position to express their own mental health needs using professional supervision and support, which will benefit the project as a whole. A leader of the project describes their own personal learning experience, saying:  
"I didn't realise (at first) that 'this stuff' has to go somewhere. After taking advice I regularly take care of my own mental health. One thing I have learned - when you go into these things you have to be prepared."  
Men around Leeds and the surrounding areas will still need support — and as a result of the pandemic, isolation will have undoubtedly increased. Man About Town will continue to seek funding to continue running the project and helping men who benefit from its engagement and support. What we can all learn from Man About Town — and the people who work within it — is to listen to the men in our lives.

As a project leader passionately describes:  
"Listen. You know that thing: "it's good to talk?" Well, it's great to listen. The amount of respect you get from somebody by just listening to them. It's good to have empathy in some degree. It's important to them that you know, but you've got to listen. They'll feel like they exist, which is so important."