Image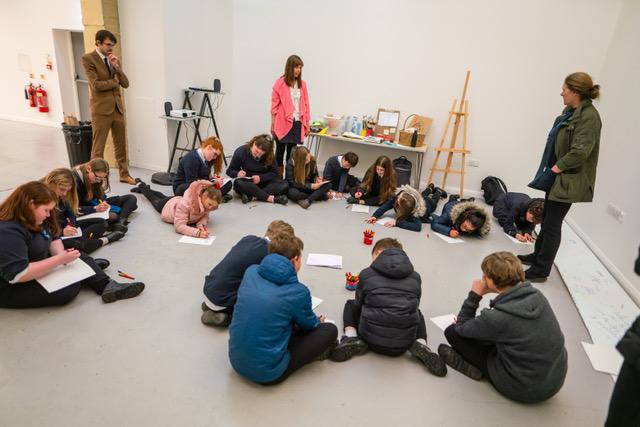 Photo by Rich Kenworthy
Collaborators Amy Lord and Claire Venus share a day in each of their lives...
What have you been doing today?
Amy Lord: I've been enjoying the grey-ness outside from inside my home studio. I've been collecting book-making materials for a video shoot this weekend and honing a toolkit people will get in the post. This is for my next project, The Story of You & Me, which is about combining the therapeutic power of craft and our inherent need ability to tell stories to connect with each other. I'm aiming for anyone in the UK to be able to learn how to make a book and fill it with words, using the internet, and the post. More details can be found here http://www.amy-lord.com/the-story-of-you-me. We launched on 1 November so there's a lot to do!
Claire Venus: I delivered a set of fired ceramics to a school from the First there is a Mountain engagement project, came home made coffee and caught up with emails. I then drove to Newbiggin Children's Centre to meet with Action for Children about my Voice of the Creative project. I picked my son up from school and then finished a report due to a project funder in the evening.
Is that a typical day for you?
Amy Lord: My working life as an artist is hugely varied. I might be on site transforming a space or working with community groups, for example last week I was leading workshops creatively re-using paper for 4 days at Baltic with young people.
Normally on my self-led projects there's a point where it becomes a full time job and I'm working similar hours to the rest of the population! I do find when I work from home it's easy to just keep going until you're exhausted but I make sure I have breaks where I might just sit in the garden with a cup of tea for 5 minutes, do some yoga at lunchtime or go for a long walk at the end of the day to switch off.
Claire Venus: Yes, my time is split between event delivery, coaching artists and project management.  Some days I work at home at my kitchen table and some days I work in arts and cultural venues or in community or children's centres.
When did you start working with culture, health and wellbeing, and how?
Amy Lord: I've been producing artistic work within the cultural sector for the past 10 years but I've crafted from a young age doing things like papier mache and decoupage for hours on end and it's always made me feel grounded and calm. I delivered another bookmaking project in Deptford, London in 2012 that really opened my eyes to the therapy-like power of crafting.
A lot of my work has explored wellbeing but I'd say it became more of a focus in the last 6 years, responding to the heightening interest and awareness about the importance of wellbeing and the knock on effects to every aspect of life – but I was also interested in the commodification of wellbeing.
Experiments in Happiness in 2017 went even deeper and used happiness, mood and mental health as the theme. I thoroughly researched the topic and interviewed specialists and academics, then responded by creating experiences, installations and workshops in an empty building in Newcastle that I transformed over a month.
Claire Venus: I have been practising yoga for over ten years and my partner is a movement coach and yoga teacher. I became fascinated with how a mindful and in the moment practise can impact positively on wellbeing and started to notice more positive working relationships in my colleagues who make time for exercise or other embodied practises. I personally include more creativity in my life outside of work now as I recognise even though I'm more a manager than an artist it fuels me to have a creative practice myself. I use the WMWBS frameworks as part of my evaluation toolkit and believe the questions help hugely around self-awareness. 
What was the last project you came across that inspired you?
Amy Lord: I loved the sound of this project by Katie Paterson: https://www.firstthereisamountain.com/
She invited the public to come together on 25 different beaches all over the UK over a period of time and make installations of sandcastles (the shapes of mountains from across the world) and watch them disappear into the sea. There was lots more to the project and I'll let you read the description in the link but I just thought it sounded beautiful. Reaching people with creativity outside art venues and traditional art spaces is my absolute favourite. Combined with being outside in nature, by the sea, sharing a moment of connection with fellow humans – it's an arts project that I'm sure had a profound effect on people's wellbeing.
Claire Venus: I am really inspired by artists with a socially inclusive practise. I am also inspired by artists who balance parenthood with an ambitious career and artists who evolve with each commission and project. I'm very inspired by play scapes and spaces which are part art/ part installation and part social comment. I am hugely inspired by artist Amy Lord and have had the privilege of working with her over the last two years on two different creative projects underpinned by wellbeing.