Image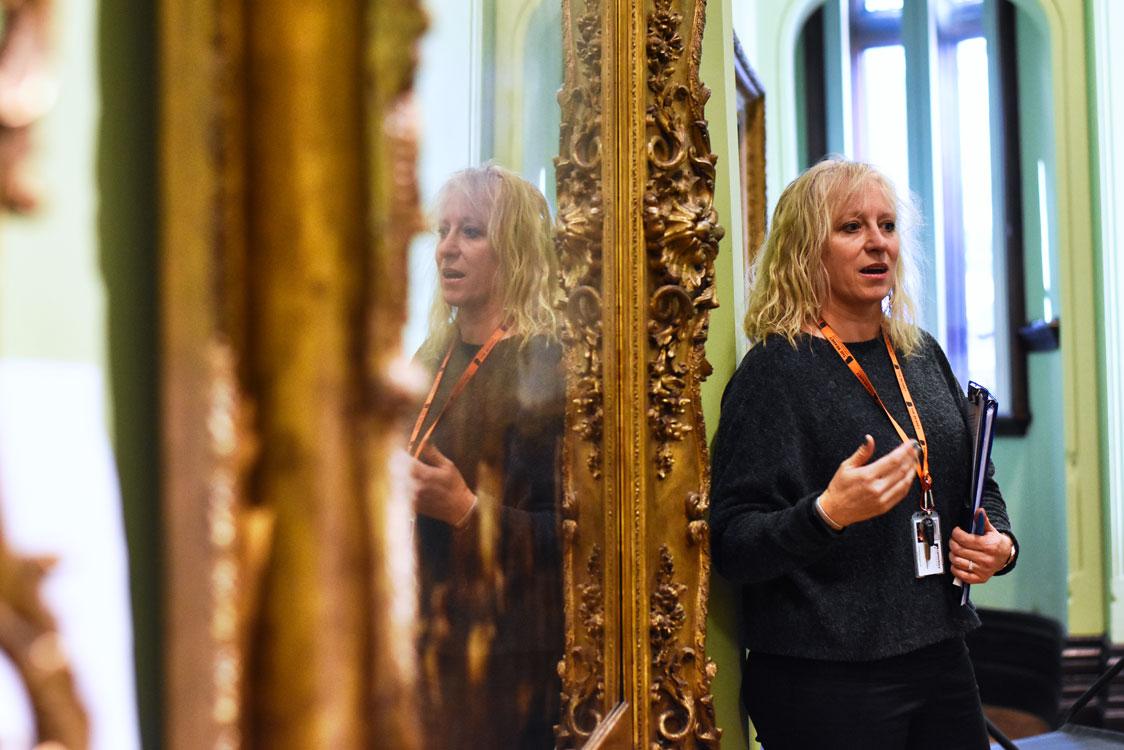 Frances Chiverton
What have you been doing today?
On the walk into work I considered buying daffodils for the staff room or some doughnuts - the doughnuts won as I thought staff might appreciate those more! I left a book about Mindfulness and relaxation methods on staff room table for staff to borrow, and made tea for those in the office early.
I attended a Gallery staff team meeting where we were given a guided tour around the next exhibition to open in the Special Exhibitions gallery, Gerald Scarfe: Stage and Screen.
Having checked on our total yearly surveys collected, I photocopied more Audience Survey questionnaires and took the ipad to one of the galleries so that the Visitor Services Officer had it to hand to carry out any online  electronic surveys.  At the same time, I stocked up on Health and Wellbeing leaflets around the gallery, near the Visitor Information Desk and spoke to the Visitor Services Officers en route.
Then, I held a meeting with our two staff Health and Wellbeing Ambassadors and discussed their work: starting up a Beaney Book Club choosing books that have been inspired by the Collection.  Plus, Object of the Month, where a member of staff's name is pulled randomly out of a hat and they then write a little about themself and the object that they like, and the reasons why.
We also discussed the next Health and Wellbeing project to start: Creative Movement classes for 2-4 year olds and their parents, the logistics and assessment methods we will be using, as well as having a professional photographer to accommodate.
I spent time at my desk sending/answering emails that have ranged from: organising a volunteer placement for a 2nd Year Public Health student to help at one of our H & W B groups, Sensing Culture to chasing up invoices and payments as we are nearing the end of the Financial Year and checking which participants are new to groups so that I can ensure that we have the correct WEMWBS or SWEMWBS paperwork ready for them when they join.
At lunchtime, I went for a short, brisk 30-minute walk with a friend along by the River Stour, near where Thomas Sidney Cooper used to paint some of his landscapes.  It was lovely to get out and get some fresh air.
Looking back at what I had planned to do, I have covered 5 of the 7 items I had planned to cover during the day in my diary, which isn't too bad.
After lunch, I made sure that all applications that we had received for a Music Commission were ready as we are shortlisting this week.  I sent these to my colleague who I will be shortlisting with.
I wrote a summary bio and brief statement for a symposium talk where I will be delivering a joint presentation about Health and WellBeing projects at The Beaney and I then booked a number of meetings - sending out calendar invites.
I typed up the minutes from the Ambassador meeting and emailed this to them with their monthly hours to check before they fill in their overtime sheets.
Is that a typical day for you?
Yes, more or less. No one day is very 'typical' though!
When did you start working with culture, health and wellbeing, and how?
I started working at The Beaney 6 months ago as the Health and Wellbeing Coordinator. But, I would consider that I first started working in a role that involves working with culture, health and wellbeing when I became a Primary School teacher in 1998 - 21 years ago.
What was the last project you came across that inspired you?
Start Up Slam at Ideas Test, Sittingbourne, was an intensive 2-week summer programme held in July and August 2017 at No. 34 aimed at engaging young people aged 14 – 16 with the arts. It was an opportunity for them to find out more about careers within the creative sector and different routes to get there.
During the two weeks, the participants became immersed in a variety of creative workshops ranging from: Graffiti, puppet-making, print-making, Street and Urban Hip Hop Dance, Film-making, team-building, Street Dance fusion, visual communication skills, theatrical and special effects make-up and music-making skills. From the above, the attendees listed the following workshops amongst their favourites: puppet-making, dancing, graffiti, screen-printing and theatrical make-up. They commented on the social impact of the programme on their well-being, stating that some of the highlights for them had been 'meeting new people and making new friends'.
The sessions ran from 10.00 to 14.30 with a half hour lunch break where free food was provided for all the participants. Feedback forms were given out at the end of every day to ensure that ongoing constructive feedback could be incorporated into the programme and, Start Up Slam: A Case Study Ideas Test so that the young people felt they were being listened to the programme was tailored to suit their specific needs. In addition to the workshops, each member of staff from Ideas Test spoke to them about their job role and their different routes into their roles. Following these, participants were encouraged to ask as many questions about the job roles as possible. These sessions acted as informal, supportive career job talks. Kath Abiker, Head of Teaching and Learning at Canterbury Christ Church University, gave a presentation on the transferable skills that can be learned from studying Foundation degree programmes. Participants commented: "I found her talk very informative. The most useful part was when she spoke about what you need to be prepared for university."
Each participant was matched to a professional mentor who had expertise in the creative industry that the young person was interested in and they met with them once in the first week and again in the second week. During these sessions, mentors discussed career pathways, how to make the most of strengths and weaknesses and helped participants set short and long-term goals. Parents commented on their child's increased confidence from meeting new people - making new friends and from practical learning in terms of real life: "My daughter has had a great time. In this two-week period, I have seen her happier, more confident, more enthusiastic than ever!"
Another parent stated that their child "came home every day totally inspired and enthusiastic about everything." In addition, parents mentioned the usefulness of the 1:1 mentoring sessions for their children too: "I think in many ways the sessions have brought out a maturity that I have not seen before." Parents said the discussions on goal setting and mapping out career and pathway were particularly valuable for their children and that it was useful to talk through future-plans, and to be able to reflect with someone other than their parent.