Image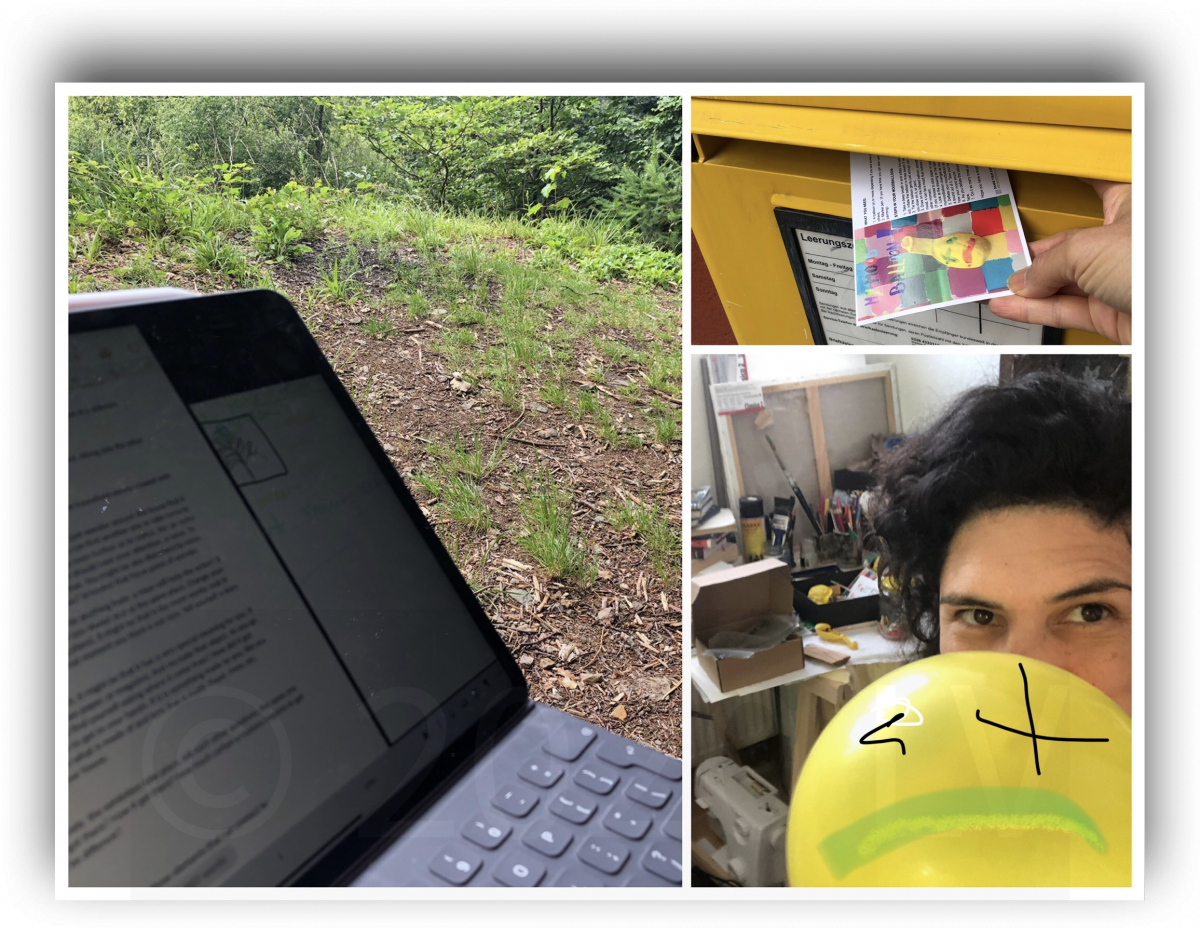 What have you been doing today?
Today, first taking care of the household and family matters, that's what happened when working from home – then, organising my day work, responding to email and so on. There are no many emails to answer, but I continued with my 'usual' routine. Then, took my office/studio outside. Working on ideas for an art proposal,  the weather was good, so outside writing and drawing helps. The proposal I was working is an idea to be included in an art activities package for vulnerable young kids and their families. This initiative is organised by Kettles Yard Open House Cambridge and together with a few pop-up help organisations that have been working to help people in need, especially in areas like north Cambridge, where a number of school-lunches families are struggling at this time of pandemic.
Is that a typical day for you?
Yes, and no. Usually I will be running this activity in person, in half term or school holidays, or I will be doing some covering in Secondary Schools, now there is no school teaching and I have to sent ideas for a package to be sent out to families.
And yes because as a freelance artist I have to write proposals of workshops, collaborations and funding applications and working at the studio (aka a space in the house for art making). Would I have taking my office outside, no, I don't do it very often, but lately as I am at my partner's and both are working from home, I take the opportunity, if the weather is nice to go out.
When did you start working with culture, health and wellbeing, and how?
I have been in art and wellbeing practice for a long time. Often my work has elements that hope to bring to discussing wellbeing. But to be more precise I was part of a network meeting at Fiztwilliam Museum Cambridge in 2017, organised by Culture Health & Wellbeing Alliance, where I leant about the work that has been done in the East region and got to meet locals who were interested and/or working already in the health and art sector. I also had the luck to meet a a now collaborator/practitioner Letizia Binda-Partensky; together we have been sharing ideas and writing art and wellbeing proposals. Since then I have been almost in all my work including aspect of health and wellbeing and activities that will aid mental health. My recent project is a postcard activity that helps to understand moods changes and at the same time have a laugh. You can find out and share it with the hashtag #mymoodballoon. The psychological impact of Covid-19 is significant and my practice has been focusing on work that aims to help those who are struggling.
What was the last project you came across that inspired you?
Actually at the moment North Cambridge Open House is working on a residency called Campagn for Empathy led by Artist Enni-Kukka Tuomala. I think it is important to start listening and responding humbly to each other. Empathy is a big topic, and much needed in times of crisis, and all the time. Somehow we, as a human race still are unable to put ourselves truly in some else shoes or begin to imagine what is to live like someone else. Of course, it is a complex issue, and like any complex issue it requires time and consistency to understand and archive changes if needed, yet some issues must be address radically. 
Another idea that inspired my recently, although his work has inspired me for a while specially the work on Dialogues, is a film recently posted in YouTube: Infinite Potential: The life and ideas of David Bohm. Bohm is a physicist who shares his work and passion for understanding our universe and consciousness; it has profound implications to humanity as proposes the profound interconnectedness of the universe. I definitely recommend it.
Biography
"no matter what I say about the work I do or how much I like to find a line, the truth is that my work is experimental, instrumental and most of all because of mo[ve]ments...juxtaposes with the acts of everyday".
Currently Loreto is an artist facilitator at Kettles Yard Cambridge and Open House. And work part time in Schools around Cambridge as a cover teacher. She is in preparation to take part for the third time in A pint of Science creative reactions festival
Born in Santiago, Chile where she initiated her performance journey and practice in participatory performances with the inspirations of directors; David Musa Entepola (1991) Vicente Ruiz (1992) and Hector Noguera Teatro Camino (1995). She has been living in Cambridge UK since 1997, where she has lived with her son.  She completed her BA in Drama and English Language studies at Anglia Ruskin University, Cambridge (2004) and completed an MA Performance Practice and Research at Central School of Speech and Drama, London (2008). For more information about her work see www.loretovalenzuela.com.