Image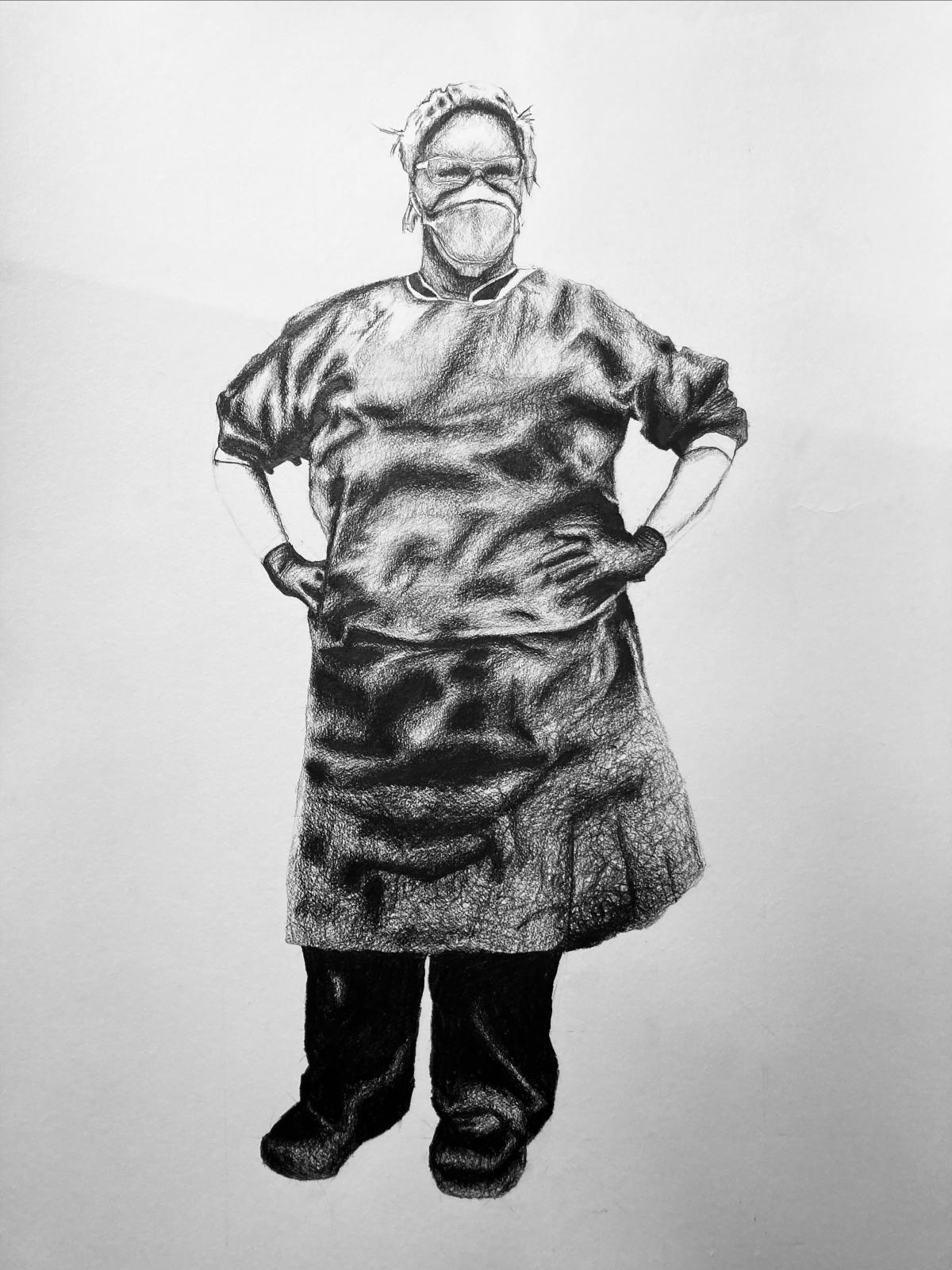 Paul Digby
What have you been doing today?
I began my day by drawing, I am working on a critical care nurse drawing commission from The Ropewalk Gallery in North Lincolnshire as part of a wider exhibition of drawings and sculptures of people in the frontline of the public sector.
I brought in armature for the future nurse sculpture I am planning. I taught an online art class and then had a meeting online with another artist about devising and delivering an artist led series of art courses.
Is that a typical day for you?
Yes, I have multiple sources of income and art engagement to manage throughout the week. 50% of my time is networking, writing funding applications, creating new projects and marketing.
At the moment a big part of my time is developing the plan and fundraising to create a life-size figurative sculpture of a nurse who started nursing at the start of the pandemic called Emily Greaves-Brayne. This celebratory and commemorative statue will hopefully be shown in various locations in 2022 and 2023 and then find a permanent space in Leeds city centre. This is with the help of Leeds23 and Leeds City Council.
The remaining time is spent on making art.
When did you start working with culture, health and wellbeing, and how?
I graduated in 1997, although previous to this I had been exhibiting and had met the social psychiatrist Prof Julian Leff who had an influence on my direction. I held a residency at Rampton hospital and began an interest in working in mental health and diagnosis. I reference various other disciplines still in my practice but not just mental health now.
What was the last project you came across that inspired you?
My last project- 2016-2019.
I worked with the emergency services drawing and sculpting them in classical poses. The project involved a series of collaborations with different community groups including schools, universities, galleries and museums. Part of the original concept and intention was to celebrate the front line of the public sector.
As well as the sculptures and drawings, I delivered a series of workshops to Shakespeare Primary school and the COOP Academy secondary school in Leeds, as well as Lionwood Infants school in Norwich. The children created a small clay figurative sculpture each. 
All the work including the 700 figures made in schools were displayed in Norwich, Sheffield, Manchester, York and North Lincolnshire. There were a series of lectures in Leeds, York, Norwich, Manchester, North Lincolnshire and other places throughout the UK.
There was an art and education seminar held in Leeds Beckett University in 2018 with another event in 2019. 
Watch film about the project here.
Biography
Paul was born in North Lincolnshire in 1971 and then moved around the north of England with his family as his dad transferred with each promotion in the bank whilst Paul's mum became a specialist nurse. 
Paul worked at 16 as a hairdresser and started clubbing and developing a love of acid house, house and rave in 1989. He regards this clubbing period as a catharsis and similar to the effects of primal scream therapy. He still collects vinyl from this period and DJs regularly.
Through this awakening period Paul progressed on to art school where he spent six years developing his skills and ideas. After his degree at the Norwich University of Art, Paul moved to London where he kept making and exhibiting his work in mainly club nights and small independent pop up spaces. 
In 1999 Paul moved back north to Leeds and took a studio space where he met his wife Ruth, also an artist and teacher who he met in his then Leeds studio. They have two daughters, Martha and Florence. Paul has continued making art and developed a strong portfolio. Paul has exhibited extensively in the UK including EAST Gallery, RBS Gallery, Leeds City Gallery, the Cornerhouse in Manchester and the Saatchi Gallery.