Image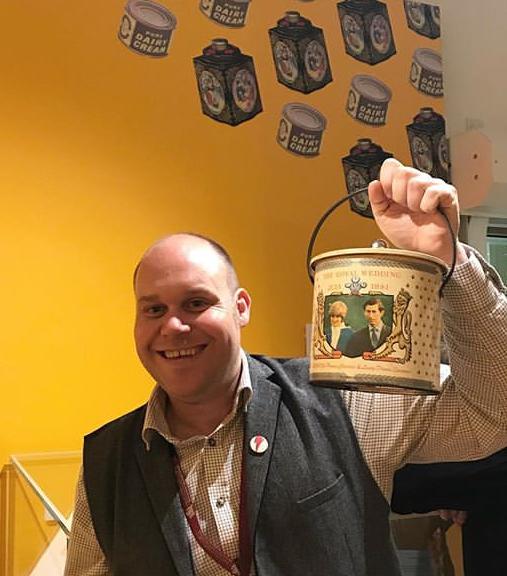 Barnsley Museums
What have you been doing today?
I've moved a couple of grand old paintings of Wentworth Castle and then I was off on a home visit to reminisce during an oral history interview about wartime Barnsley. 
Is that a typical day for you?
It is the old cliché that no one day is typical. I work with museum collections, community groups and individuals out and around Barnsley; collecting and recording the history of the town from individual perspectives. My time is as varied as the rich history that people share with me - from stories of wartime childhoods, factory life in the 1960s or life as a gay teenager in Barnsley. Museums do a huge amount of work in health and wellbeing; it is largely about reflecting and telling stories which has an incredibly powerful effect on people. It is a privilege to listen and meet so many wonderful people.
When did you start working with culture, health and wellbeing, and how?
I've always worked with people in the community sector from Macmillan Cancer Support to the Royal British Legion but I moved into the culture about 10 years ago and haven't looked back, I've worked in National Trust properties chasing after deer in car parks, doing tours in grand old halls or cleaning an old spinning machine in a Georgian factory, I've handled reptiles in Manchester Museum, done an MA in Museum studies, I've been Wakefield's collections officer and put together their first LGBT+ exhibition and now I'm back in my home town. But the best bit is working with people and their own living heritage. 
What was the last project you came across that inspired you?
Oh gosh…too many to mention here. I am inspired every day by the local groups and people in Barnsley who really care about local people and our environment. Butterflies Dementia Support offer people friendship and tackle loneliness we work with them doing reminiscing heritage sessions. I know some of their clients, don't have families and this is their only social outlet. Barnsley Main Heritage Group are wonderful too - working on a post-industrial site to bring Barnsley's rich heritage back to life whilst encouraging friendship, health and wellbeing - oh and looking after all the cool wildlife like hedgehogs. These people are the glue that holds the tarn together.