Image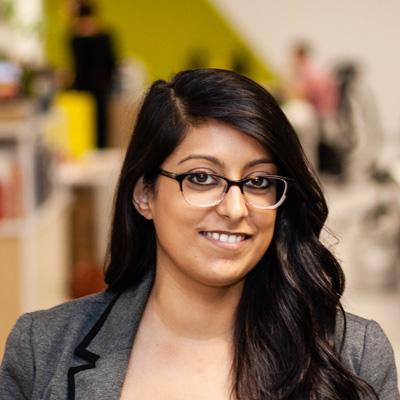 Trishna Nath
What have you been doing today?
I've been on Zoom calls all day! Despite a bit of Zoom fatigue, I generally gain a lot of strength and power from speaking and working with arts and culture organisations. Today is no exception.  
Is that a typical day for you?
Yes and no. Having my morning (and afternoon) tea and checking in with my colleagues is about as close as I get to a routine. Depending on the day, I may be speaking to prospective investees, discussing the merits and risks of social investment, or supporting an existing investee to scale its programmes and services.  Some days I'm presenting a webinar and other days I'm on excel, analysing and testing financial models. The mix of activities keeps me on my toes and helps to break up the day- which is very necessary when you've worked from home for the last year!
When did you start working with culture, health and wellbeing, and how?
I was thrilled to be asked to join the board in May 2020! Prior to joining, I had multiple touchpoints with CHWA, first connected with the organisation when I attended the National Conference, 'Cultures of Health and Wellbeing,' at the Great North Museum in March 2019. Inspired by the attendees and speakers, I was keen to make a formal connection with CHWA and was introduced to Victoria in 2019 through a colleague at Nesta. It became clear very quickly that the CHWA's objectives and values were aligned with my passions and past experience building partnerships between community-based arts organisations and health systems in the US.
What was the last project you came across that inspired you?
I continue to be inspired by the organisations in our portfolio, even more so now because of the challenges they face operating in the middle of a global pandemic. The creativity, resilience and dedication demonstrated by organisations like IRIE! Dance Theatre and Pop Up Projects  continuing to deliver impactful programmes for children and young people, InHouse Records circulating 'edutainment' magazines to the general prison population while in isolation, and Saffron Hall Trust delivering online music therapy for those living with dementia is particularly inspiring!
Trishna is an Investment Manager on the Arts & Culture Finance team at Nesta managing the Cultural Impact Development Fund. She is responsible for overseeing business development and due diligence processes, developing proposals for large, complex deals, as well as providing wrap-around services and portfolio management for art and culture investees. She has 8 years of experience transforming charity business models, building financial management capacity and connecting traditional grant making efforts with innovative social investments. Prior to joining the Arts & Culture Finance team at Nesta, Trishna was a lead consultant at a community development financial institution in New York City. In this role she provided strategic financial management advice and technical assistance to healthcare, arts and culture, government and philanthropic organisations across the United States.