Image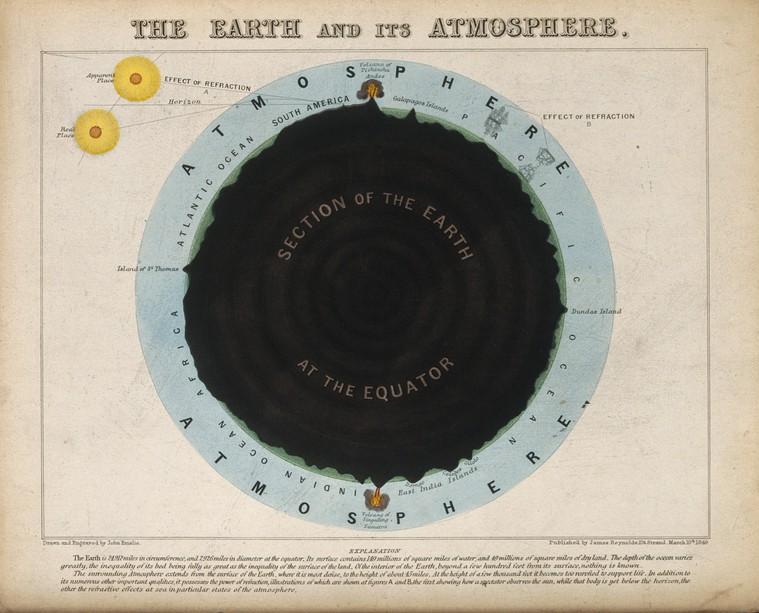 Astronomy: a section through the earth, showing the atmosphere. Engraving. Credit: Wellcome Collection. CC BY
We're summarising here some of the discussions that took place during our first twitter chat – especially for those of you who are not on twitter (or you can find the chat on twitter here). Participants from Cambridge, Dorset, Lincoln, London, Colchester, Leeds and more shared their priorities and responses to our questions. We are aiming to repeat this every two months (or more, if it seems that would be useful); we are working on the theme for the next Chat now based on these first discussions.
This twitter chat has been really useful, we look forward to the notes, the more co-ordinated we can be the better (London Arts in Health Forum)
Activism
One focus was activism: a source of hope, but also a threat to wellbeing when it is undertaken without sufficient support or self-care.
I think it is important to learn from other movements about the mutual support, respect and creativity that can generate real change.
The arts have a key role though in placing activism within a regenerative culture, supporting activist wellbeing as well as recruiting, raising awareness and keeping actions non-violent.

We need to slow down and use our art forms to nurture our selves and each other, understand this as positive action rather than avoidance of urgent issues
Is the 'we' the crux? Perhaps the wellbeing-supporting ingredient x isn't self care but being part of a community of care rather than a lone 'hero' - Valerio "People committed to leveraging their privilege to be there for one another in various ways."
Some useful links shared here included the film United in Anger; an introduction to the health benefits of activism; a piece on community care (vs. self-care); and an evidence review of climate change and social justice from the Joseph Rowntree Foundation.
Relating to this, we talked about the importance of linking with other groups, including Julie's Bicycle, Culture Declares and many others. We are delighted to say that the Happy Museum and Culture Declares are partnering with the Culture, Health & Wellbeing Alliance for a climate award at our national conference in 2020.
We discussed the intersection between climate politics, and inclusion and diversity; the Colour Green podcast was highlighted as a really useful resource here.
A discussion thread was also devoted to working cultures and how we might celebrate museums who support the wellbeing of staff.
Alternative Visions
We discussed the importance of developing alternative visions. Here's a link to a useful article on changing "the climate disaster script". This is not unlike the kind of activism we're seeing through events like Arts, Ageing & Activism. It's about using the full force of our creativity to shift our cultural narratives. Supporting all our imaginations. John Stephen Bowtell of the British Association of Dramatherapists suggested for example that we should "use the #dramatherapy space to lament, build resilience and co-create courageous futures".
Arts & Health South West suggested specifically that...
An alternative vision for the future should address the impact of digital devices & social media on wellbeing; offer a way of living without these, without losing connectivity - how to rediscover ways of organising and communicating that allow us to go offline?
And here's a link to NESTA's Radical Visions of Future Government.
Moving around, staying put
In relation to travel we talked about whether we might be able to "find ways of reintroducing people to tangible, embodied experience, but do this remotely at a meaningful local level, while still connecting nationally via digital links to reduce the need to travel?" The very real challenges of transport and public infrastructure were brought up:
We have difficulties here in rural Dorset with public transport availability and poverty which means arts communities have to try extra hard to achieve the declaration aims. (Activate Performing Arts)
As well as specific issues such as "the impact of climate change on the built environment & its effect on older people & ageing in place".
Inspiration & Action
I've found many of my colleagues are really passionate about sustainability and the climate crisis. Away from work, many are finding ways to go green. Appealing for their ideas begun the conversation and gave staff an outlet
A little bit on research....
We're interested in the recent work of @Daisy_Fancourt - how WHO research is showing value of arts, culture and communities in wellbeing and how this may elevate and assist the arts making it better placed to address big issues eg climate
...And a specific ambition to gather information
Arts & Health South West committed during the Chat to writing a a piece in its next newsletter "to see how climate change is affecting the physical and emotional #wellbeing of our community"; London Arts in Health Forum and the Culture, Health & Wellbeing Alliance are hoping to join forces to coordinate questions and share back to get a bigger picture.
Let's keep talking
We're closing here with a couple of comments:
keep prompting us and continue to give a clear platform to issues surrounding the climate crisis, so we'll feel inspired to do the same, and feel less alone in our attempts to respond
It is great to have this issue raised and to share the connections between

#HealthForAll

and a healthy planet - creativity and activism can come together to make this case
And...
Read our draft declaration here, with lots of other links and resources