Image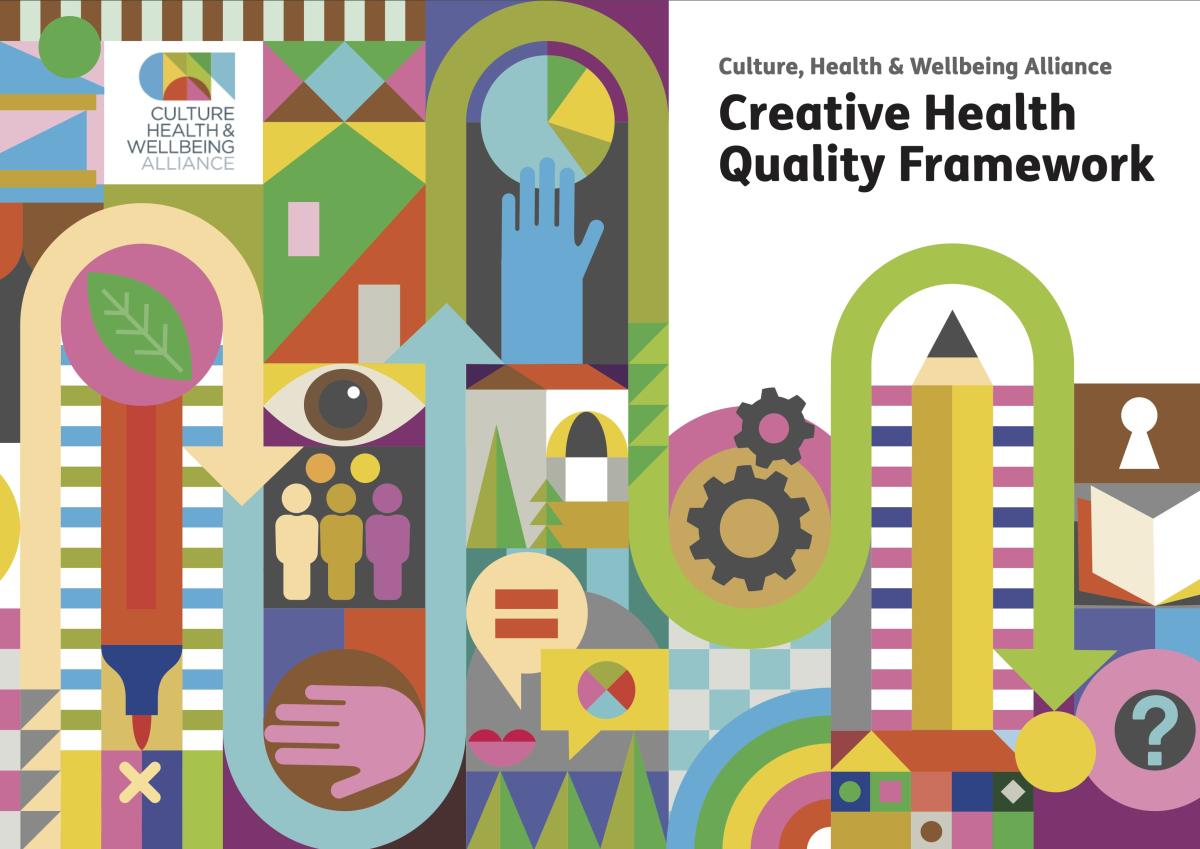 Cover of the Creative Health Quality Framework; design by Jennie Ives
Ground-breaking tool launched to boost

the use of arts and culture to support health
The Creative Health Quality Framework, a ground-breaking new tool that clearly articulates what "good" looks like for arts and culture initiatives that aim to support people's health and wellbeing, will be launched on September 20th by The Culture, Health & Wellbeing Alliance (CHWA).
The evidence that arts and culture are good for our health continues to grow. Organisations like WHO and UNESCO now calling on governments around the world to realise the potential of creativity for health, and leaders in the NHS and government are increasingly turning to arts and creativity to help them with their most pressing challenges, from health inequalities and mental health to NHS staff wellbeing.
The hope is that the Creative Health Quality Framework will inspire the best possible experiences and outcomes for everyone involved in creative health work, meaning the power and potential of creativity to transform our health can truly be realised.
Funded by Arts Council England and developed by Creative Health consultant Jane Willis in collaboration with over 200 people including artists, participants, health commissioners, and researchers, this new Framework offers clear guidance on how to use the eight Creative Health Quality Principles to deliver safe and effective projects.
The Creative Health Quality Framework sets out a set of principles and actions to ensure creative health work really makes a difference to people's health experiences and outcomes.
Anna Woolf, Director of London Arts and Health, said:
"This document will help us, as creative organisations, feel a sense of validation in the ways in which we work. In applying the Quality Principles to our work, it will help us strengthen and solidify our values and approaches."
Douglas Noble, Strategic Director of Adult Social Care and Healthcare for Live Music Now, added:
"The Framework's 8 Principles have many highly practical applications. Focusing on a person-centred approach, for example, will mean we start to build trust and relationships at an early stage; and ensuring we are sustainable means we can really develop a long-term culture of musical care in health and care settings."
The Framework rests on the idea that Quality is a shared responsibility – held by everyone involved in creative health, from participants and practitioners to funders and policymakers. This is not about defining or accrediting practice, but about creating greater clarity and consensus around a shared concept of good.
Deborah Munt, non-Executive Director of CHWA, said:
"The Creative Health Quality Framework represents a mature, nuanced and flexible way for us to consider what quality is really made up of and how we can create the best possible offers and experiences, and the impacts that matter most. It gives us a practical process for developing shared responsibility - within partnership and across sectors - and an understanding about how we each need to contribute." 
Matt Walsh, Co-Chair of CHWA, added:
"We are excited to see how this Framework lands in the world, and we're open to further dialogue about how the experience of practitioners, commissioners, and researchers unfolds in response to the Framework."
The Culture, Health & Wellbeing Alliance (www.culturehealthandwellbeing.org.uk) is the sole free-to-join membership organisation for creative health, representing everyone across England who believes that cultural engagement and participation can transform health and wellbeing.
We provide networked, collaborative advocacy, support and resources, supporting health and wellbeing for all through creative and cultural practice. We are based in Barnsley, South Yorkshire.
We work with over 6,000 members including freelance creatives, museums, heritage and arts organisations and strategic partners across culture, health and social care.
Jane Willis (www.janewillis.co.uk) is a creative health consultant, trainer, facilitator, mentor and coach. Drawing on 30 years' experience, Jane supports people within the creative sector to feel connected, supported, and resourced to practise well. 
Having worked with a range of creative and cultural organisations, Jane's first role in healthcare was as Director of Arts for Barts Health, where she set up the arts programme, Vital Arts in 1993.  In 2001, she founded award-winning arts and health consultancy Willis Newson which she directed for 22 years, before becoming an independent consultant in 2023.
"Creative health" is defined as creative approaches and activities that have benefits for our health and wellbeing. Activities can include visual and performing arts, crafts, film, literature, cooking and creative activities in nature, such as gardening; approaches may involve creative and innovative ways to approach health and care services, co-production, education and workforce development. Creative health can be applied in homes, communities, cultural institutions and heritage sites, and healthcare settings. Creative health can contribute to the prevention of ill-health, promotion of healthy behaviours, management of long-term conditions, and treatment and recovery across the life course.
The Quality Principles that underpin good creative health projects are:
Person-Centred: Value lived experience and enable potential

Equitable: Work towards a more just and equitable society

Safe: Do no harm, ensure safety, and manage risk

Creative: Engage, inspire, and ignite change

Collaborative: Work with others to develop joined-up approaches

Realistic: Be realistic about what you can achieve

Reflective: Reflect, evaluate, and learn

Sustainable: Work towards a positive, long-term legacy for people and planet