Image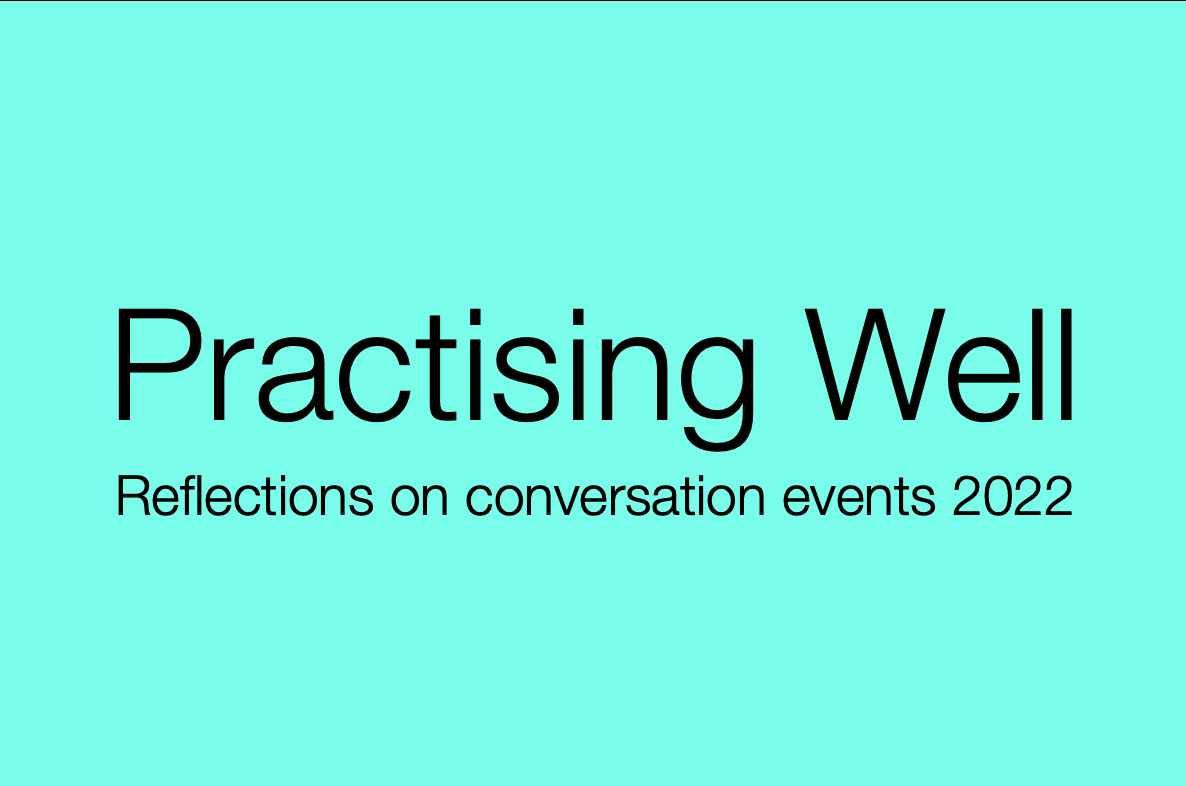 September 2022 
What better way to complement the public sharing of my most recent research Practising Well: Conversations & Support Menu than through a series of conversations about what it means to practice well in participatory arts on an individual, collective and sector-wide basis. Working once again with the Culture Health and Wellbeing Alliance (CHWA), and supported by the AHRC, this series of free conversation events - held in February and March of 2022 - invited a range of speakers to present ideas and experiences around what it means to 'practice well'. The events began with space for reflection, followed by the presentations with opportunities to ask questions. Time was allocated for peer-to-peer breakout spaces before everyone came back together for a group discussion and took time for individual reflection. As the recordings are available to watch I'm not going to offer a précis of the presentations here, rather I would like to focus on the questions, thoughts and discussions which sprang from the presentations. 
Watch the conversations here
Read the Good Support Found Poem - a collaboration with Arji Manuelpillai and attendees- here
Who was in the room?  
Before I talk about the discussions it's worth highlighting the speakers for each event, who between them shared their experiences of organisational and standalone support initiatives, research into disability, integrative arts therapy, lived experience, peer networks and creative practitioner perspectives.  
Conversation 1: Nicola Naismith & Alex Evans 
Conversation 2: Nicola Naismith, Tracy Breathnach, Alistair Gentry & Roshmi Lovatt 
Conversation 3: Nicola Naismith, Daniel Regan & Arji Manuelpillai 
The majority of attendees were creative practitioners, followed by creative organisations, with commissioner, funder and development agencies represented in smaller numbers. By far the largest group of attendees were those with 5+ years experience of working in the sector. Some people came to more than one event, with 150 people attending overall.  
Questions, thoughts and discussion topics 
It was evident that these conversation events offered valuable opportunities to connect, reflect and share. I've identified the following points from across the three events, which I have arranged alphabetically: 
Care: Points were made about how it is possible to imbed support throughout organisations for staff, volunteers, trustees and creative practitioners, thus creating a culture of care and promoting a reflective, kind and connected working environment. Attendees shared examples of where this approach has been implemented, which demonstrates how some organisations are leading the way, with the hope that others will follow or develop their own initiatives.   

Competition: A question was asked in the chat about the role of competition within the arts, and if that might impact on the provision of support. There is no doubt that the arts are competitive, and that need and demand for freelance contracts, jobs and resources outstrip opportunities. People may therefore feel self-conscious about appearing needy if they ask for support, and someone not making such requests could be seen as preferable: thus not asking for help becomes normalised. We can, however, reframe this: asking for support is a sign of professionalism (as in other people-orientated professions), and if organisations choose to work with people with differing support needs a more diverse arts workforce develops, which is key to the future relevance of participatory arts.  

Evaluation: A question about the role of evaluation was asked: how can support initiatives and programmes be developed in an informed way if we're not sharing good practice? Individual needs and preferences will always vary, so in amongst knowing what might work well (and consulting with those the support is designed to benefit), it's important to develop a sustainable model which offers flexibility and can be effectively resourced and managed. 

Receive: There was a key observation about the relationship between giving and receiving. Creative practitioners and facilitators often take the role of 'giver' - the one supporting others - and making the transition to someone who can 'receive' and make use of support requires an acknowledgement and understanding of this change, and a safe space to explore and reflect. 

Resilience: Attendees challenged the idea that resilience is often promoted as a personal quality which needs to be maintained through individual effort. There were suggestions about about how systems need to consider the people who operate within and alongside them by understanding how important support is in participatory arts; by articulating a commitment to offering support and by investing - so people can be met where they are and supported in ways which best suit their needs.   

Holistic Support: The symbiotic relationship between instrumental and affective support came across really clearly at all of the events. A key to building sustainable foundations involves attending to instrumental support, which includes contracts (with clear descriptions of the boundaries of the work), inductions, fair pay and points of communication/contact. Affective support can include being offered opportunities to reflect and share practice before, during and after projects through a range of methods, both individual and collective. Creative practitioners often spend time on flexing and adapting, which can occur across multiple organisations but only adds to the labour involved in being a freelance arts worker. There was the suggestion of a Charter of good practice, to which the CHWA Creative Health Quality Framework - currently in development - will bring welcome clarity.  
These events were well attended and well received on average 90% of attendees said the event they attended would influence their thinking and practice going forward. Over 70% said they would read the Practising Well Research, with 60% saying they would share the research with colleagues, managers and/or organisations. Most attendees learnt something new and made new connections, and 60% said they would think more about their support needs. I aim for the research I produce to be read, discussed, considered, interrogated, built upon and actioned in ways which contribute to systemic change. These events have supported those aims through the generosity with which presenters and attendees shared their experiences and perspectives, which was itself a supportive activity - helping to reduce isolation and build common ground. I hope to run further events, so if you have suggestions about the format and/or potential speakers then please do get in touch. 
Nicola Naismith: info@nicolanaismith.co.uk