Image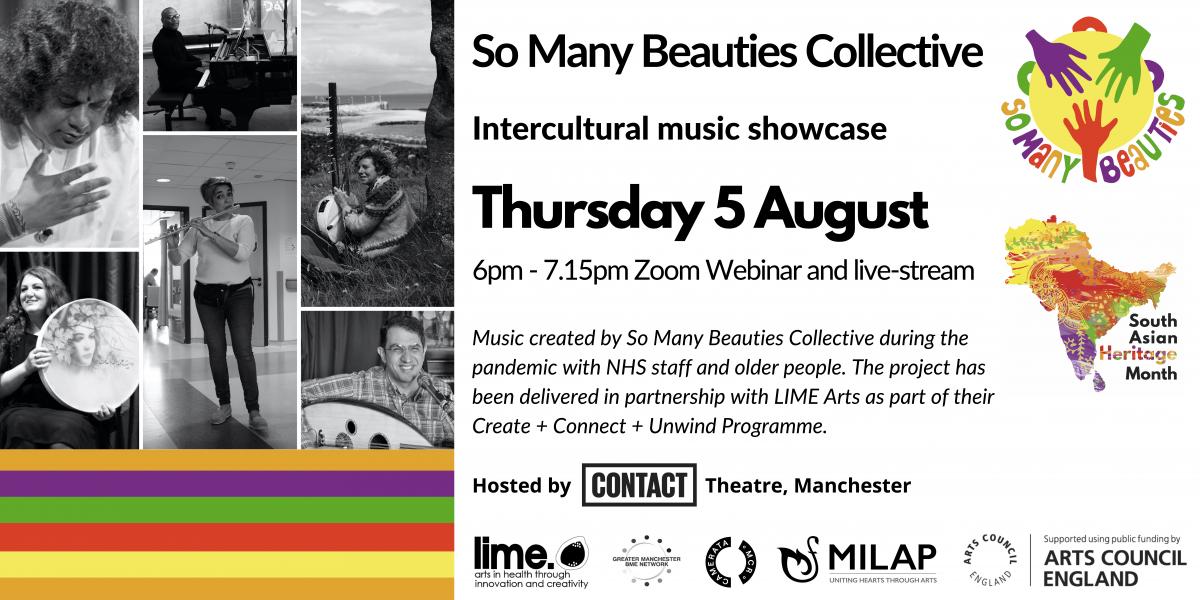 So Many Beauties- Intercultural Music Project
Intercultural Music Showcase as part of South Asian Heritage Month- Thursday 5 August, 6pm - 7.15pm 
The So Many Beauties Collective weaves a rich tapestry of sounds, drawing on diverse cultural influences. It features some of the North West's finest musicians who have come together during the pandemic to share music, celebrate each other's heritage and develop new inter-cultural ideas. The ethos of the Collective is to work co-creatively with people in health and social care settings, providing opportunities for patients, residents and staff to be actively involved in the creative process of making music.
In 2021, the Collective led a series of workshops hosted by LIME Arts and SoundUp Arts with additional funding from Arts Council England. The music they will showcase tonight has been created during these workshops, working alongside a wonderfully creative cohort of frontline NHS staff and older people in the wider community.
The Collective features Kousic Sen (Indian tabla), Mina Salama (Egyptian multi-instrumentalist), Gulcin Bulut (Turkish frame drum player and voice), Amina Hussain (classical flute), Mark Mckenzie (Gospel piano and voice) and Holly Marland (Kora [West African harp] and voice).
Here's what some of the older workshop participants said about their experiences;
"I feel……"Alive", "Absolutely inspired really really enjoyed it", I" don't have the words, I've learnt and I'm curious", "I feel like a kid asking why", "uplifted it was beautiful", "very nice very enjoyable"
And staff at the hospitals:
"It created beauty in my day and helped me relax", "It was perfect",  "It was cool to learn about the different instruments from Egypt, Africa, India and Europe", "I enjoyed learning new information and engaging with people with different experiences, learning about new instruments", "all participants had an opportunity to actively participate in the session"
This event forms part of the South Asian Heritage Month programme of events which you can find in full, here. 
It is delivered in partnership with Contact Theatre, LIME Arts, Milap, Greater Manchester BME Network and Manchester Camerata.
There are a limited number of tickets available to join this live performance in Manchester's Contact Theatre by Zoom Webinar. You can register for tickets here. 
The event will also be live-streamed on the So Many Beauties Facebook event page @somanybeauties. For general enquiries about the project please email hollymarlandmusic@gmail.com