Image
Losing memory, Natalia Millman
Memories are flowing away abandoning the ageing brain but still attached, resisting to dis-connect completely.
The last couple of years have shaken both my interior world and art practice. Abstract landscapes of serene waters slowly died out and let tears in. Grief turned into poems, then into paintings and sculptures. This process was a sporadic attack on my mental serenity. All brought onto my fragile creative soul by the death of my Dad two years ago.   
He had been unaware of Dementia for many years before. It sneaked onto him in the dark, stole his identity, robbed him of his precious memories and turned him into a violent stranger. In the Ukraine where I am originally from, this illness is under-researched and holds stigma. You justify it as absent-mindedness or old age when many people get cut off from society and become invisible, unneeded, not part of the flow of life. They have accomplished their mission and now it is time for them to go. There is nothing that anyone can or wants to do. They are erased before their deadline by society that turns away from vulnerability.
When he was gone, my feelings were racing from extremes: mostly numbness to anger that someone can simply disappear into the void and life around calmly continues. My philosophical tendencies of questioning life, afterlife and all in-between, started to dominate my days and pushed me back into my studio. Instead of colours I was attracted to black, charcoal and fire. I started burning my canvases and using worms and fungi in my work. I went off to the building site to look for something non-beautiful. I was sorting through material to find meaning and take care of the unwanted. I used these old objects that had a life of their own to tell my new story, to highlight the damage that time imposes on the human body and mind, how it erases language, memories and consciousness.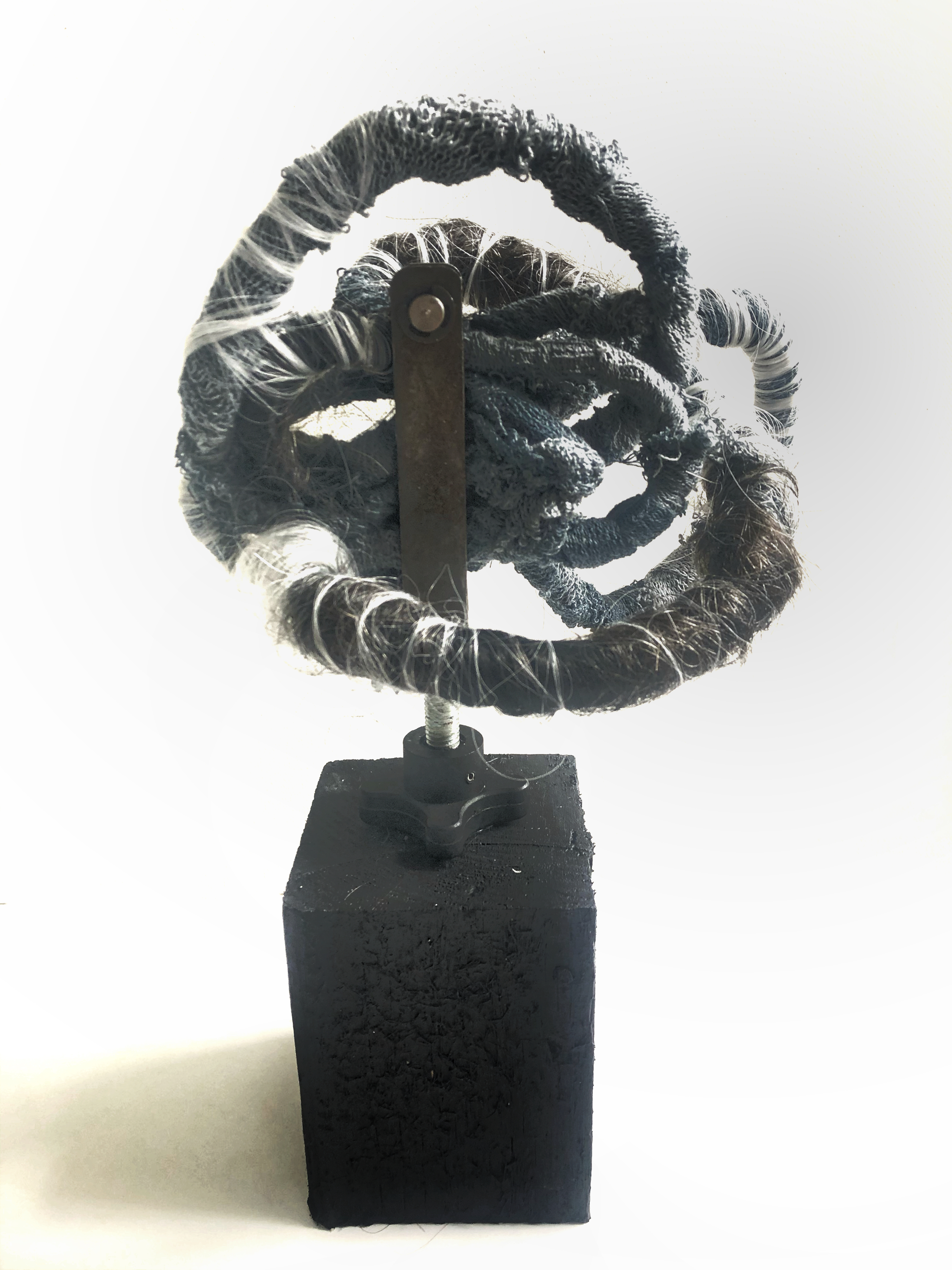 Using my dad's jumper, I wrapped my family's hair around the linked shape as a symbol of eternal care and love.   
Today, I think my work has two sides to it. First it is a way to process my grief and learn to continue my next chapter without a parent. My work is my visual journal. It is also the reflection of my own meaning and where I am going in this life. I dig deep inside to see what is left and how I can build a solid structure for the rest of my life without the fear of the inevitable end. I am not scared of death anymore nor do I believe in afterlife, but rather energy that serves as a universal force. I imagine my Dad lives inside every piece I make.    
Second, it is a mission to raise awareness about this illness through the lens of my family grief and to show how personal memories can evoke collective ones. Maybe someone who sees my work will relate to it because of their own personal experience and notice what I am trying to do in reflecting the sense of humanity in context of this devastating illness. To tell the world that old people matter, and they are reminders that one day we will be them too. We owe them our love, dignity and respect.
My creative process grew from loss to something positive. Out of sadness can come hopefulness. If you attach creativity to it, new self-discoveries will emerge. We only need to be patient and search for signs of deep meaning that life throws at us.  
About Natalia 
Natalia Millman is a self-taught multimedia artist.  Originally form Ukraine, she moved to London in 2001 and has been a part of Insight school of Art since 2013. She recently joined prestigious Studio Fridays where she continues to research the philosophy of ageing. Her symbolic objects are reminders of mortality, the fragility of life, memory loss and passing physicality. She regularly exhibits in Art Fairs, solo or in group shows and pop-up exhibitions. Her blog Studio Journal documents her practice.
Natalia is looking for collaboration projects with charities and organisations on developing her body of work on the impact of ageing and dementia.
Her solo show VANISHING POINT takes place 6-10 October in the Crypt Gallery London. Opening times 10.30-15.30.   Launch Party, 6th October 5.30-8.30PM. 
Email: Info@nataliamillmanart.com